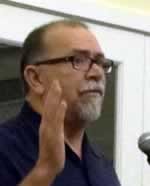 Audio files from the January 2012 Chuck Fromm Worship Seminar God Still Speaks: Worship as a Living Theology of Communicationare posted below.
Click here to see pictures from the seminar.
You can use the embedded player to listen on this page or right-click the session titles and save the files for listening later, offline.
Session 1: Worship As a Living Theology of Communication, Part 1 (35:51)
Session 2: Worship As a Living Theology of Communication, Part 2 (72:23)
Session 3: How to Read the Sacred Text (71:34)
Session 4: Textual Community and New Song (28:57)
Session 5: Communication Models, Part 1 (29:04)
Session 5: Communication Models, Part 2 (51:18)
Session 6: Communication Models, Part 3 (60:46)
Session 7: Implications and Trends, Part 1 (45:38)
Session 7: Implications and Trends, Part 2 (28:21)
Session 8: Applied Communications in Worship (29:44)