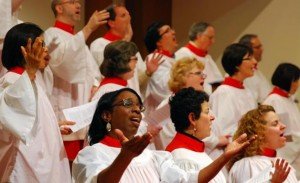 The IWS Choir will again participate in both Opening Convocation and Commencement. The choir, conducted by Dr. Dan Sharp, is open to everyone: both new and returning students and alumni.
Update 31 May 2012: The Tuesday rehearsal has been pushed back to 7:30 PM – 9:30 PM.
We will be singing:
Sicut cervas of Palestrina
My Soul's Been Anchored by Moses Hogan
Praise His Holy Name by Keith Hampton
Old Hundredth by Ralph Vaughan Williams
plus service music and descants
It will be a great time. Many of you may already have this music. We will provide scores for everyone.
Rehearsals
The choir will rehearse
Tuesday, June 12, 7:30-9:30 PM in the sanctuary
Wednesday, June 13, 4:30-5:30 PM (supper provided)
Thursday, June 14, 4:30-5:30 in the sanctuary
Sunday, June 17, 3:00-4:00 PM in Benedict Hall (dining room)
Convocation is of course Wednesday evening and Graduation is Sunday at 5:00 PM.
Videos

Sicut Cervus

My Soul's Been Anchored
Also on YouTube:
Praise His Holy Name (there are MANY versions on youtube to watch: You might check out "Praise His Holy Name – Hampton and Jesus, I Adore Thee Caracciolo" — it's one my son added of our choir in Seattle and begins at 4 minutes in — Jesus I Adore Thee is first)
Old Hundredth (check out the Westminster Abbey version)
Please email Dr. Sharp of your intent to sing. If you are not able to make a rehearsal, let him know. We'd like 35-40 singers again this year. Some of you may have already made plane reservations and would have to miss Tuesday night. Look at the music ahead of time and come when you get here.