Read recent news from IWS alumni serving around the world.
Chuck Betters, D.W.S., Lambda 2007
I was recently called by our congregation, Glagow Church (PCA) in Bear, DE, as an associate pastor. The next step is to appear before the presbytery and finish seminary at Reformed Theological. We are going through a major renovation of our sanctuary, and I am preaching 18-20 times a year. I am also headmaster of a large Christian school that our church acquired this past year called Red Lion Christian Academy. The doctorate I was blessed to earn at IWS has proven to be key during this time.
Eric Bolger, Ph.D., D.W.S., Alpha 2002
I have completed my first year as Dean of the College (Academic Dean) at College of the Ozarks, Branson, MO.  I continue to preach regularly in our church (Harvest Evangelical Free), lead worship on occasion, and help to oversee our worship ministry.
J. Michael Dennis, D.W.S., Rho 2010
I recently accepted an invitation to teach church music at Indiana Wesleyan University in Marion, Indiana. My position includes teaching church music courses (administration, church year, leadership, worship/music philosophy, practicum), conducting two choirs, teaching voice, and coordinating music and other elements of worship for our three weekly chapel services. My wife, Lana, is teaching middle school mathematics and science at Lakeview Christian School. My son, Brad, is a senior at Marion High and is already getting involved in performance choir and is making many new friends. My daughter, Eva, started first grade and loves it! I am humbled to be an extension of the ministry and vision of IWS here in Indiana!
Chris Diffenderfer, D. W.S., Mu 2008
I am currently adjunct faculty in Christian Studies for Grand Canyon University, teaching in both their undergraduate and graduate programs. I am also working on a book project (working title: All Things New: Realizing the Transformation of Christ in the Incarnational Life and Worship of the Church). After four years and much prayer, our house church ministry, Falcon Ekklesia, concluded and our members melded with deeper traditions, some of our families becoming Eastern Orthodox and some, like my own, becoming Catholic.
Jim Dodge, D.W.S, Nu 2008
I serve as the Director of Advancement at Canby Bible College, Canby, OR where I have witnessed the transforming presence of God. Disciple formation now describes the ethos of the school, and formerly recalcitrant indifference toward liturgy that once prevailed has given way to embracing the entire range of Christian worship. Our faculty represent a variety of Protestant traditions as well as one Roman Catholic (me).  Students obtain a wide angle view of the historical Church, locating themselves within a heritage of faith. CBC, which once had more faculty than students, has grown into a Christian community college recognized regionally for the quality of its faculty and its commitment to affordable, quality Christian education. This fall, CBC is adding a worship track beginning with an undergrad version of DWS 701, the biblical and historical background of worship. I am grateful that the education I received at IWS has borne fruit in a most unexpected place and in a most unanticipated way. And I am profoundly grateful for the leadership at CBC who have taken a courageous stand to buck cultural trends and delve deeply into the historical Church.
Don Fugate, D.W.S., Delta 2004
I am Senior Pastor at Foxworthy Baptist Church, San Jose, CA and in my 30th year of ministry at the church. For the past two years I have also been serving as chairman of the Executive Board for the California Southern Baptist Convention. I was interviewed by Bob Burroughs for the most recent issue of Creator magazine.
Edna Grenz, D.W.S., Eta 2005
I lead worship for the Carey Worship & Arts Summer School: A Creative Exploration of the Psalms (August 13-16), using Psalms for All Seasons as the primary resource for times of worship both in the morning sessions and at the evening Psalmfest.
Clif Harris, D.W.S., Nu 2008
I just began my 22nd year as Associate Minister of Music and Worship at Winter Park Baptist Church in Wilmington, N.C.  I also will begin teaching at Campbell Divinity School in Buies Creek, N.C. this fall as an adjunct professor for music and worship.
Brian Hedrick, D.W.S., Nu 2008
After 18 years as Minister of Instrumental Music at Johnson Ferry Baptist Church, Marietta, Georgia, I recently enjoyed my third sabbatical during which my family and I visited five national parks and three major metropolitan areas in the northwestern United States. In June I accompanied a group of our choir and orchestra members to the Southern Baptist Convention in New Orleans where we led worship one day.  Our musicians combined with choir and orchestra members from five other churches representing four states (Georgia, Alabama, Mississippi, and Louisiana). Our church has six morning worship services in two venues and in three different styles. God is truly blessing the ministry at Johnson Ferry, and I am blessed to serve there!
Cassie Hill, A.G.C.W.S., Kappa 2009
After retiring from 30 years of teaching, God opened up an amazing (at least to me) call to chaplaincy. I recently completed 3 units of Clinical Pastoral Education (CPE) Internship and a one-year CPE residency, and am now serving as a chaplain at Methodist Hospital-Dignity Health (part-time) in Sacramento, CA where I walk with patients and their families through times of crisis and brokenness. What an honor to be present at those sacred moments of life on a daily basis! It is humbling to help people find meaning and hope in times of trial, reconnect them to their faith practices which have been sidelined for many years, or join with families and their friends in intercessory prayer.  It's a whole new world—one that I would never have considered on my own.  There are so many new experiences of walking by faith and totally depending on God from day to day, and I love it!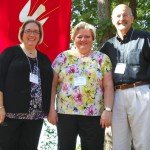 Heather Hood, D.W.S., Gamma 2003
Greg Lundberg, D.W.S., Gamma 2003
Greg and I served as the Worship Coordinators for the Conference for Church Musicians in Green Lake, WI in July 2012, working with Constance Cherry, who was the Conference Worship Clinician. We planned seven worship services for the conference around the theme, "God's Story . . . Our Story," using the liturgical seasons as a way to connect the redemptive story of God to our personal lives.
Wallace Horton, D.W.S., Zeta 2005
I'm starting my 13th year as Minister of Worship and Spiritual Transformation at Prince of Peace Lutheran Church in Springfield, VA. This will also be my 44th year in fulltime ministry. My position includes oversight of worship life including writing the services each week, directing the adult choir, playing the organ, directing the orchestra, and administrating the music staff and program as well as being the point person for our lay people who have various worship related tasks and responsibilities. On a personal note, my wife, Joan, and I recently celebrated our 40th anniversary as well as the birth of our second grandchild, Grace Estelle. We are thankful for God's blessings to us in our lives as well as how He continues to bless our ministry. My time at IWS and with my Zeta classmates was, and still is, one of the great blessings of my life.
John Lee, D.W.S., Tau 2011
John serves as Associate Pastor Worship/Music/Fine Arts at Travis Avenue Baptist Church, Fort Worth, TX. He writes: I established a Fine Arts Academy about twelve years ago which has functioned as a ministry of our church. Our mission is to reclaim the arts for Christ and to train the next generation of worship leaders. We recently began the process of becoming a separate 501(c)(3) non-profit organization. This is a daunting task which also involves moving to a different facility. We currently have over nine hundred students enrolled in virtually every area of fine arts. I am also teaching as an adjunct professor at Dallas Baptist University. My doctoral work at IWS has enabled me to teach undergraduate and graduate level courses. God has truly blessed me by opening these doors of opportunity in worship ministry and Christian education. Both my philosophy and practice of ministry continue to be influenced by the life-changing time spent in study and application as a student at IWS. Visit John's blog: worshiphimfromtheheart.blogspot.com.
Daniel Longhin, D.W.S., Nu 2009
The online class, Foundations of Christian Worship, that I am teaching for SETECA (Seminario Teologico Centroamericano in Guatemala) has started and is going well. This Fall I will also be teaching two sections of the course Foundations of Worship at Grace Bible College in Grand Rapids, MI with over 40 students. I am still Pastor of Worship at Calvary Church in Wayland, MI and things are going well.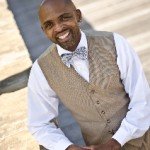 Tony McNeill, D.W.S., Xi 2009
As of August 1, 2012, I was appointed as the new Director of Worship and Arts at the historic Ebenezer Baptist Church of Atlanta, GA, the spiritual home of the late Dr. Martin Luther King, Jr.
Dyton Owen, D.W.S., Kappa 2009
I was appointed to serve as pastor at First United Methodist Church in Chanute, KS as it transitions into multiple services of worship, utilizing multimedia and becoming a digital church. Our goal is to become a learning hub for the area with live streaming events and seminars, as well as our own worship celebrations. I am beginning work on a book (inspired by my time at IWS) with the tentative title of "Mind's Eye: Recovering Sign and Symbol in the Life of Faith."
Dannell Shu, M.W.S., Zayin 2012
In June, my husband, Peter, and I welcomed the arrival of our second son, Leo Josiah. We praise the Lord for his safe arrival and strong health. I am the United Worship Education Coordinator for the student worship teams at Bethel University (St. Paul, MN) where I train students in biblical worship with a focus on embodied worship leadership. I also direct the Sacred Dance Ensemble for chapel ministry in collaboration with the United Worship Teams. My husband and I co-lead Global Worship Movement, a music and dance missions ministry that partners with churches locally and globally for evangelism, education, and edification toward an active, embodied participation in worship.
Julie Smith, M.W.S., Aleph 2004
I currently serve as Director of Contemporary Worship at Ascension Lutheran Church in Waterloo, Iowa, and will be going on a mission trip to Turkey and Greece this October. I am grateful to serve with a pastor who incorporates Robert Webber's principles in worship.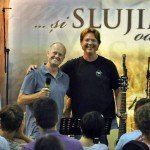 Rob Still, M.W.S., Beth 2007
I am currently on a 26-day missions trip to Eastern Europe. My first assignment was a week in Serbia as the Worship Director for the SOZO Festival. My next mission has been teaching Practical Theology of Worship for two weeks at the Scoala de Inchinare (School of Worship) in Timisoara, Romania. I'll lead worship and speak in different churches on the weekends. My third leg is leading worship team workshops in Timisoara and then in Cluj, Romania. On the home front, I helped launch a contemporary worship service at First United Methodist Church, Hendersonville, TN where I am now serving as the Contemporary Worship Leader. I'd love for my IWS friends to connect with me on my worship blog or Facebook pages or my website.
Brian Walrath, D.W.S., Alpha 2002
This is my 20th year at Spring Arbor University, Spring Arbor, MI. This spring I was promoted to Professor of Music and Worship Arts.