Dear Alumni, Students, Faculty, Staff, Trustees and Friends of IWS,
The abundant blessing of God continues to be evident through the worldwide impact of the entire IWS community, and for that we are truly grateful. Over half a million people around the globe have been directly influenced by the ministries of IWS alumni, students, faculty, trustees and staff. I count it a deep privilege to be a part of this critical ministry of worship education, and I continue to marvel at the work of God manifested in the impact the IWS community is having in the church and the academy. God's Kingdom is advancing through our community's advocacy for biblically, theologically and historically informed worship practices enlivened and infused by God's Spirit. IWS stands committed to fulfilling our God-given mission to form leaders in worship renewal.
You can read more from Dr. Hart and representatives of the Board, faculty, students and alumni in the full report.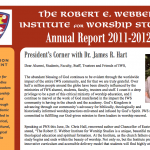 Read the 2011-2012 Annual Report now!
If you're encouraged by the news you read in the Annual Report, please consider supporting the ongoing work of IWS (a response form is included in the PDF).
Tags: annual report