ORANGE PARK, Fla. – The Robert E. Webber Institute for Worship Studies (IWS) welcomes Dr. Eric H. Ohlmann as its new Academic Dean. Dr. Ohlmann brings to this position a wealth of experience as a theological higher education Dean, having served at Eastern Baptist Theological Seminary (now Palmer Seminary), Northern Baptist Theological Seminary and most recently at Taylor College and Seminary. A recognized administrative scholar, his graduate training includes a Th.M. with a major in Church History from Southern Baptist Theological Seminary and a ThD with a major in Historical Studies from The Graduate Theological Union. Dr. Ohlmann was the Director of Accreditation and Planning for IWS from 2005 through 2010 as the Institute achieved initial accreditation.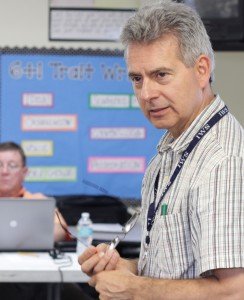 Dr. Ohlmann is replacing Dr. Andrew E. Hill, IWS Professor in the doctoral program, whose term as Academic Dean expired effective June 30, 2013. Dr. Hill will continue as the professor of DWS 701. He has served IWS as Dean since July 1, 2010. During Dr. Hill's tenure as dean, he helped guide IWS through a remarkable period of strong growth and progress. Enrollment and library resources have been expanded, an increase in global outreach has been initiated, and the processes of academic assessment have been strengthened. IWS is grateful for the dedicated and excellent service of Dr. Hill as Academic Dean.
The Robert E. Webber Institute for Worship Studies offers the Doctor of Worship Studies and the Master of Worship Studies degree programs, using a unique mix of distance learning and in-class instruction on its Orange Park, Florida campus. More than 575 students from over 50 denominations in the U.S., Canada and twelve other countries have matriculated at IWS since its founding in 1999, and 371 students have graduated from the school. IWS is accredited by the Commission on Accreditation of the Association for Biblical Higher Education.