Eric Bolger, Ph.D., D.W.S., Alpha 2002 (Professor, MWS 501)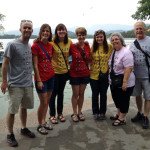 "This summer, I traveled with four College of the Ozarks students, my wife Janet, and my son Dan, to Liaoyang in northeast China. We were working with our sister school, Liaoning University, teaching for two weeks in various English classes and spending time with students and faculty. The four students each lived with a Chinese family. We had many opportunities to tell the Gospel Story, and had many fruitful conversations with Chinese who are looking for meaning in their rapidly changing culture.  Our hope is to make this an annual visit; faculty members from the university teach Chinese language and culture at our campus each year. The picture is of our group at the Summer Palace in Beijing, wearing our panda shirts."
Constance Cherry, D.Min. (Professor, DWS 702)
Constance's new book, The Special Service Worship Architect: Blueprints for Weddings, Funerals, Baptisms, Holy Communion, and Other Occasions, is released by Baker Publishing. Also, her book, The Worship Architect: A Blueprint for Planning Culturally Relevant and Biblically Faithful Services, now in its 4th printing, is being published in the Korean Language.
As part of the February 2013 music conference, "Texts and Tunes," at Carson-Newman University, Constance, along with Graham Kendrick, was inducted into Delta Omicron, an international music fraternity, as National Patron, an honorary membership in recognition of contributions in the field of church music. Constance and alum Paul Clark, D.W.S., Xi 2009, planned and led the opening worship service for the conference. (Pictured at the right: Paul Clark, Graham Kendrick, Constance Cherry, and Noel Tridennick, Music Director at All Souls Church, London.)
Darrell Harris, D.W.S. (Chaplain)
If you have not read the interview with Darrell by Steven Guthrie, Professor of Religion at Belmont School of Religion, you'll find it insightful and inspiring. Here's the link: Darrell Harris on the Christian Music Industry. You'll find links on that page to additional conversations on the current nature and health of the Christian music world.
Here is a link to the June Session Chapel talks. Darrell's chapel series this session was titled, "The One Thing: One Grand, Multicultural Mission."
Reggie Kidd, Ph.D (Professor, DWS 704)
Reggie was ordained to the transitional diaconate in the Episcopal Diocese of Central Florida on June 8.
Eric Ohlmann, Th.D. (New Academic Dean)
Andy Hill has completed a three-year term as Academic Dean and will be replaced by Eric Ohlmann, who is no stranger to IWS. [Continue reading . . . ]
Lester Ruth, Ph.D (Professor, DWS 701)
Lester's new book, Longing for Jesus: Worship at a Black Holiness Church in Mississippi, 1895-1913, is scheduled for publication this month by Eerdmans Publishing. Click here to preorder at 33% off.
In early June, Constance Cherry and Lester Ruth were keynote speakers at the Worship Symposium, Worship In Spirit and in Truth, held at the Methodist School of Music in Singapore.  They had an incredible time of not only meeting worship leaders from nine nations across Asia, but also reconnecting with the large number of IWS students and graduates who live in Singapore. Pictured below with Lester and Constance are Judith Mosomos, DWS candidate, Budianto Lim, DWS candidate, Lidya Siah, MWS, Gimel 2008, and Christabel Wong, DWS candidate.