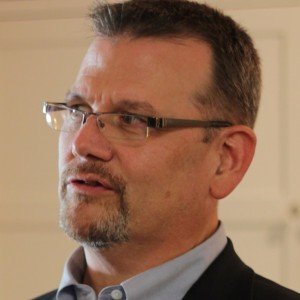 Dear Alumni, Students, Faculty, Staff, Trustees and Friends of IWS,
I am thrilled to report that during this past fiscal year IWS has reached new pinnacles in worldwide impact through expanded outreach, record enrollment and the strongest giving levels in history. Thanks be to God for his abundant blessing made evident throughout the entire IWS community. As I wrote last year, over half a million people around the globe are being directly influenced weekly by the ministries of IWS alumni, students, faculty, trustees and staff.
The reputation of IWS is steadily growing worldwide while remaining rooted in the theological perspectives, relational sensibilities and pedagogical philosophy of its founder, Bob Webber. I count it a deep privilege to be a part of this critical ministry of worship education. I continue to marvel at the work of God manifested in the impact the IWS community is having in both the church and the academy. IWS stands committed to fulfilling our mission to form servant leaders in worship renewal.
You can read more from Dr. Hart and representatives of the Board, faculty, students and alumni in the full report.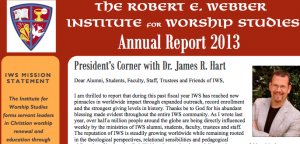 Read the IWS 2013
Annual Report now!
(PDF Document, 1.1 MB)
If you're encouraged by the news you read in the Annual Report, please consider supporting the ongoing work of IWS (a response form is also included in the PDF).
Tags: annual report