Eric Bolger, Ph.D., D.W.S. (Alpha, 2002) served as Academic Dean and Professor for MWS 501. He is Dean of the College at College of the Ozarks in Branson, MO.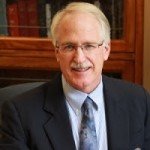 While preparing a sermon recently on John 2:13-22, I was reminded of the lyrics to an old and familiar song. The original lyrics to "How Can I Keep from Singing" center squarely on Jesus, the One who enables us to keep singing through any circumstance:
Since Christ is Lord of heaven and earth,
How can I keep from singing?
But these lyrics have often been adapted and de-Christianized to make "love" rather than Jesus the center:
Since love is lord of heaven and earth
How can I keep from singing?
This replacement of Jesus with something else that is significant and even transcendent, in this case love, is appealing and popular in today's culture. It is much safer and less threatening to proclaim the greatness of love—who could disagree? The New Testament authors, however, were adamant that Jesus alone is worthy of this adulation. For them, he is the center of all reality, the only trustworthy foundation upon which to build our lives. Even something as biblically important as love, when abstracted from Jesus, is only a grand sentiment with no power to transform.
In John 2:13-22, for example, John introduces us to Jesus as the new Temple, the embodied dwelling place of God, as the disciples recognized in hindsight after his resurrection. After prophetically clearing the Jerusalem temple of sellers and money-changers, Jesus is asked to give a sign proving his authority. His response is an invitation to his inquisitors: "Destroy this temple, and in three days I will raise it up." They, and likely the disciples as well, misunderstand him to be referring to the physical structure of the temple. But John makes clear what the disciples later realized and what we often take for granted: he was referring to his bodily resurrection on Easter Sunday.
While the clearing of the Temple is recorded in all four canonical gospels, the reference to Jesus as the new dwelling place of God in this narrative is unique to John. Also unique is John's citation of Psalm 69:9 with regard to Jesus' passionate clearing of the temple: "His disciples remembered that it was written, 'Zeal for your house will consume me'" (Jn 2:17).
John's allusion to Psalm 69 is a clue that this psalm sheds important light on Jesus. Psalm 69 is a prayer of lament by one guilty of sin and surrounded by enemies, metaphorically up to his neck in muck and mire. As is so common in the lament psalms, the praying one recognizes the LORD as his only hope:
13 But as for me, my prayer is to you, O LORD.
At an acceptable time, O God,
in the abundance of your steadfast love answer me in your saving faithfulness.
14 Deliver me from sinking in the mire;
let me be delivered from my enemies
and from the deep waters.
So the prayer of the psalmist, epitomized and fulfilled by Jesus, is one of steadfast confidence in the LORD's provision and protection in the midst of suffering. It is also the prayer, as John highlights, of one who is zealous about seeking the LORD in his established dwelling place, the Jerusalem temple: "zeal for your house consumes me" (69:9).
It would be easy to apply Psalm 69 and John 2:13-22 to our own lives with an exhortation to live up to the model set by the psalmist and by Jesus, to become those who are zealous for God's presence and confident in his delivering, covenantal love. At one level, this is a legitimate application. But more profound and freeing is the message of Jesus himself and the New Testament writers that those who are baptized into Jesus are by grace given Jesus' own zeal and confidence. It is not our zeal and faith, in other words, that are at the center of the story. Rather, it is Jesus and his zeal and faith, and this is good news because we, even in our best moments, struggle to be zealous and faithful.
Bob Webber used to tell the story of his response to someone who assumed that since he wrote a lot of books about the Christian faith, he must be a very spiritual man. "I'm not," he replied, "but I know a man who is, and his name is Jesus." Jesus is, as Webber understood and proclaimed, the center of the Story, and the One who enables us to sing through all circumstances:
What though my joys and comforts die?
The Lord my Savior liveth;
What though the darkness gather round!
Songs in the night He giveth.
No storm can shake my inmost calm
While to that refuge clinging;
Since Christ is Lord of heav'n and earth,
How can I keep from singing?
To replace Jesus with a vague concept of love is not good news. What is good news is that Jesus not only died for us but also freely gives us his own, resurrected life with all of its goodness and power. How, then, can we keep from singing?