Rebecca Abbott, D.W.S., Pi 2010, reports, "I'm taking some of what I learned from IWS on the road in May and June. Joining the Party: Celebrating Two Thousand Years of Congregational Song will be a walk through church history with a representative song from each era, a dynamic lecture-concert with audience participation. Please let us know if you'd like to sponsor a house concert or a church concert May 20-June 3: Pittsburgh, Philadelphia, Washington, D.C., Virginia, Tennessee, Kentucky."
Chris Alford, D.W.S., Alpha 2002, continues his fine work with the Ancient-Future Faith Network. The fourth annual AFFN gathering will be held this June at the Webber Center for an Ancient-Evangelical Future in Ambridge, PA. See details here. Chris is the pastor of Epiclesis: An Ancient-Future Faith Community in Sacramento, CA.
Steven Brooks, D.W.S., Upsilon 2012—His more than 20 years of music and worship ministry have culminated in the recently published book, Worship Quest: An Exploration of Worship Leadership. Steven serves at Calvary Baptist Church in Huntington Beach, CA and teaches at several colleges in CA. Check out his ministry site and blog.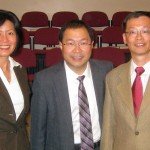 Kai Ton Chau, D.W.S., Pi 2011, Khiet Lin, D.W.S., Sigma 2013, and Michael Wong, M.W.S., Mem 2013, spoke at the "Bible and Worship Seminars and Workshops 2014" in Toronto, Canada. More than a hundred people from a variety of denominations attended the event. Kai Ton was the keynote speaker and spoke on "Covenantal Worship," and also led a workshop on leading participative worship with choirs and worship teams. Michael designed and led the opening worship service. He also led the choir and presented a workshop on designing worship services. Khiet led a workshop on truthful praise in choir ministry. The event serves both the Cantonese and Mandarin speaking people groups of the Chinese communities in the greater Toronto area. In addition, Kai Ton recently contributed the chapter "Computer and Music Pedagogy" for the book, Digital Da Vinci: Computers in Music.
Constance Cherry, D.Min. (D.W.S. professor), is completing the third and final book in "The Worship Architect" series that addresses worship music in the local church, a very comprehensive guide. It is scheduled for publication in 2016. The tentative title is: The Worship Music Architect: Blueprints for Pastoral and Visionary Leadership. The first book, The Worship Architect: A Blueprint for Designing Culturally Relevant and Biblically Faithful Services (2010), is used as a required text in worship by more than 100 academic institutions of higher education worldwide (seminary and university) representing more than 30 denominations. It was just released in Korean and is under contract to be published in Chinese (projected in 2016). The second volume, The Special Service Worship Architect: Blueprints for Weddings, Funerals,Baptisms, Holy Communion, and Other Occasions (2013)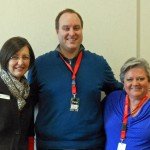 is also officially contracted to be published in Korean 2016. Photo: Last October, while speaking at a worship conference at Kingswood University in New Brunswick, Canada, Constance connected with Betty Weatherby, D.W.S., Chi 2013, and Jonathan Grimes, D.W.S. candidate.
Simon Miner, M.W.S., Gimel 2010, recently released a worship album, The Dwelling Place Project to raise adoption awareness and support. Four of the songs were written for IWS courses! Proceeds from the project will go toward funding his family's unfolding adoption journey (story here), and any extra money will be donated to adoption-based charities. Check out the Facebook page.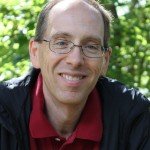 Lester Ruth, Ph.D.–His latest article,"Some Similarities and Differences between Historic Evangelical Hymns and Contemporary Worship Songs," has just been published in Artistic Theologian: Journal of Ministry and Worship Arts (Volume 3) 2015. It is a close comparison of the theology of the most-republished evangelical hymns in early America and the most-used CCLI songs. It is available online here and may be downloaded as a PDF.
Dave Yauk (D.W.S. candidate) recommends a tool for training your worship musicians. Jamplay is now available to IWS students, faculty, and alumni, and all those within your worship ministry context. Jamplay provides online guitar and bass instruction taught by musicians from leading music universities, with pre-recorded tutorial videos, scored music, supplemental material, and learning tools for all styles of music. Jamplay also offers live private lessons, taught by professionals through video chatting portals 12-hours a day. IWS affiliates and those in your context may to go to jamplay.com/trial and type in our personal code—GardenCity—for an unlimited trial membership.