NoodleBib is a Research Manage Project System from the company NoodleTools. You can use NoodleBib to organize your research, track your sources, and produce proper citations. Modesto College has an excellent overview here.
Service Update
IWS pays annually for a subscription that gives faculty and students access to NoodleBib. Until now, everybody had to periodically "validate" their right to use the software and prove they belonged to IWS through a special code in addition to having a separate NoodleBib username and password.
Starting today, you will access NoodleBib with your IWS email address and password at a new login page (please update your bookmarks accordingly). You don't need to do anything for this change to take effect, and Noodlebib doesn't ever have access to your actual password. The whole login process is handled through Google (the provider of your @iws.edu email account) and Populi in the same way that your Moodle is. Updating your password in Populi will now update it for Google, Moodle, and NoodleBib.
For Current NoodleBib Users
The next time you want to log in to NoodleBib (we recommend you do it today), you will be prompted for your IWS username and password (include the @iws.edu part of your username). After signing in, you will be prompted for your old NoodleBib username and password.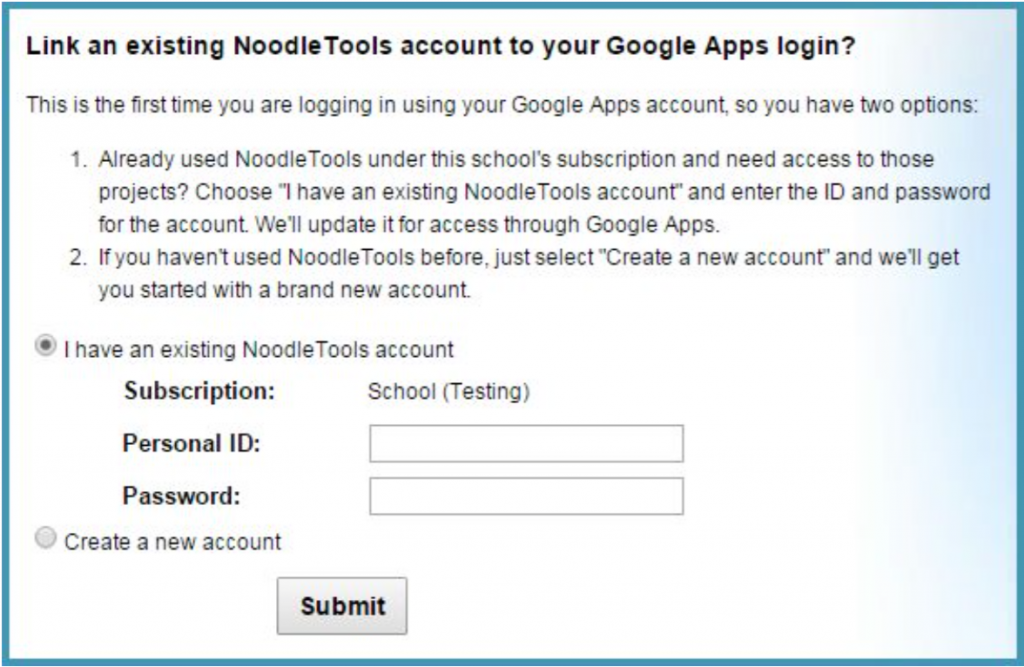 Supply the credentials you previously used with Noodlebib and all of your data will be linked to your new @iws.edu-based account. That's it!
New Students and NoodleBib Users
If you haven't adopted a computerized system for taking notes, organizing your research, and cataloging your sources, there is no better time than right now to check out NoodleBib—a resource IWS provides to you at no cost. Having a system like this one in place will pay dividends the longer you use it, and many students and alumni can testify to its usefulness in their ministry in addition to their IWS writing.