Patrick Bennett, (D.W.S., Lambda 2008)
"I am still teaching at Warner University in Lake Wales, FL, and playing with the Florida Worship Choir and Orchestra.  I recently purchased a new French horn and look forward to playing it for IWS chapels and at graduation during the June session.  I am also serving as part-time worship pastor at First United Methodist Church in Frostproof, FL."
Jarrod Brown (D.W.S., Mu 2008)
Working as a dentist in Danville, VA, Jarrod recently published a book of Christian and American poetry, Times Yet To Be: a poetic year. It follows the Christian year and also includes several secular holidays and photography.
Jennifer Harris Clayton (D.W.S., Beta 2 2015)
Jennifer has established a new ministry: Wounded Worshiper Sanctuary. Its purpose is to provide a safe haven of respite, retreat, and recovery for weary and wounded followers of Jesus Christ. Follow the link to learn more about the nature and vision of this ministry. The first Wounded Worshiper Refuge,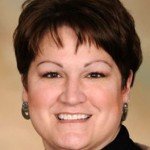 in partnership with the Ancient Future Faith Network, is scheduled for August 22-25, at Christ the King Retreat Center in Sacramento, CA. It is a retreat-style experience centered around worship and community for those who have been mistreated and wounded. Send email inquiries to info@woundedworshiper.com. See Jennifer's first Wounded Worshiper Sanctuary blog post, "Will I Die Trying?"
Chris Diffenderfer (D.W.S., Mu 2008)
"I have been teaching online as adjunct faculty at Grand Canyon University in both the bachelor's and master's programs in the College of Theology. I teach classes in Contemporary Theology and Pastoral Ministry, but most often graduate sections in Old Testament Foundations, Systematic Theology, and Biblical Hermeneutics. The adjunct relationship allows the time I need to lead our small house church, Falcon Ekklesia, work on a writing project on sacramental spirituality, and support my now young adult children in their business venture (The Leaky Mug, a mobile espresso shop)."
Karen Durbin (M.W.S., Beth 2005; D.W.S. Xi 2011)
Karen will receive the Master of Divinity degree from Lutheran Theological Seminary at Gettysburg on May 13. She is a pastoral candidate with the ELCA and Vicar at St. Peter's Evangelical Lutheran Church, Lancaster, PA.
Bill Eichorn (D.W.S., Alpha 2002)
Bill is the Minister of Music and the Arts and Music Academy Director at St. Bartholomew's Episcopal Church in Poway, CA (north of San Diego). He was recently honored for serving in that capacity for 30 years.
Larry Ellis (M.W.S., Beth 2005; D.W.S., Nu 2008)
Larry's third book, Radical Worship: What Sunday Morning Can Never Give You, published by Adoration Publishing Company, reclaims the biblical meaning of worship, stepping away from the popular meanings used today. Larry discusses the direct relationship between submitting to God and one's re-creation in Christ. The significance of worship is examined through Jesus' responses to the question, "What must I do to inherit eternal life?"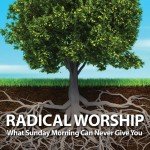 Larry critiques the narrowness of formulaic Christianity and unfolds expressions of worship that Jesus explicitly affirms. The book includes an extensive study guide for practical application. His previous books are Forgiveness: Unleashing a Transformational Process (2010) and Secrets for a Successful Small Business: What the University Will Not Teach You (2011).
Ruth Goddard, D.W.S. candidate
Ruth is Worship Pastor at Haller Lake Baptist Church in Seattle, WA, and the founder of Joy of Music Company. Ruth presented a paper at the Christian Congregational Music: Local and Global Perspectives Conference at Ripon College Cuddesdon in Oxford, UK in 2013. A revision of her paper "Who Gets to Sing in the Kingdom?" appears as Chapter 4 in the recently published book, Congregational Music-Making and Community in a Mediated Age. Over 70 papers were presented at the conference and 12 were chosen for the book.
Jeff Holmes (M.W.S., Ayin 2014)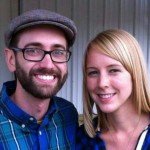 Jeff serves as Contemporary Worship Director at Northminster Presbyterian Church, Cincinnati, OH. He shares, "A few months ago I was hired as the part-time music and worship coordinator for a senior living community. I get to serve as a contemporary director at the church and a traditional director for chapel services at the senior living community. It has been reassuring to draw on the same principles of designing thoughtful and engaging worship for both settings that I learned at IWS. I often pull out my first MWS 501 textbook, Robert Webber's Planning Blended Worship, as a reorientation when I'm thinking through service design. Even though I'm working with two very different worship expressions and vocabularies, there are strong common threads that let me lead with ease and not feel uncomfortable in either environment. I continue to be incredibly grateful for the depth and breadth of teaching that I received at IWS, and for how well it prepared me for the various encounters and opportunities that come my way!"
Wallace (Wally) Horton (D.W.S., Zeta 2005)
"After 45 years of full-time ministry, I retired November 1, 2015. I served 19 years at Bethany Lutheran Church (LCMS) in Long Beach, CA, 11 years at The Falls Church (Anglican) in Falls Church, VA, and the past 15 years at Prince of Peace Lutheran Church (LCMS) in Springfield, VA. While at Prince of Peace, I was able to apply much of what I learned at IWS. During my years in ministry, the Lord blessed me with many opportunities to use music and worship as a means of reaching people and helping them in their faith journey. During the last 10 years I also worked with people in the areas of spiritual transformation and healing, much of this as a direct result of my time with Carla Waterman and Reggie Kidd at IWS. The Zeta class was a fabulous group of people and we all learned many things from each other. My time at IWS was truly a life-changing experience. While only retired for a few months, the Lord is already giving me new opportunities to share my ministry and experiences with the Church at large. I'm anxious to see where He leads me in the months and years ahead."
Budianto Lim (D.W.S., Psi 2014) and
Lidya Siah (M.W.S., Gimel 2008; D.W.S., Psi 2014)
Budi is Associate Minister at Bukit Batok Presbyterian Church in Singapore. He writes, "Lidya and I are excited for the opportunities to teach and share our passion in our home country, Indonesia, where there is an increasing awareness of the importance of worship studies. Last year the Lord gave u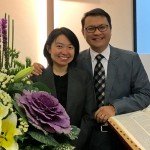 s the strong impression that He is calling us to serve beyond our congregation. Soon we received an invitation to give a lecture at Reformed Indonesia Theological Seminary. That followed by another opportunity to speak during a seminary retreat. Then, the Seminary offered a position in February 2016. We hope to join the faculty after February 2017 to teach courses in worship and Old Testament. It is exciting news for us. Please pray that we will make a smooth transition. Meanwhile, as we finish pastoral ministry in Singapore, we continue to teach God's people concerning our identity as worshipers. Lidya has the opportunity to prepare and lead Bible studies for domestic helpers (maids) for the whole year of 2016. I continue to train worship leaders for our congregation and lead a ministry team in designing liturgy."
Kristen Mandrick (M.W.S., Pe 2015)
"I recently participated in the United Worship Conference in Myanmar, organized by David (D.W.S., Gamma 2 2015) and Niiang Suum (M.W.S., Pe 2015).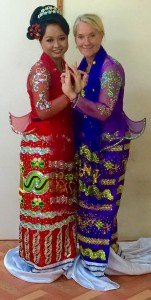 It was the first Christian worship conference in the country. David invited all 79 Christian churches in the country and approximately 68 churches sent representatives. Speakers included pastors and worship leaders from Myanmar, Thailand, Singapore, China, Australia and USA, who encouraged worship leaders to engage their congregations in heartfelt worship through humility, mercy and love. The conference took place just one week before Myanmar's first democratic election in twenty-five years.
"We visited the Grace Music Institute founded by David Suum in 2002. The recording studio has helped launch the careers of many of their graduates. The lyrics of each song that is recorded must be submitted to the government for scrutiny. Christian churches cannot own or rent property in Myanmar. The buildings that house Grace Music Institute, the recording studio, and the church are all privately owned and rented apartments paid for through tuition fees, offerings, and donations. They are in the process of fund raising to build a campus for the institute.
"This is a season of growth for God's kingdom in Myanmar, especially among the young people. I am very blessed to have had the opportunity to worship with our brothers and sisters in Christ."
Gary Matthews (D.W.S., Alpha 2004)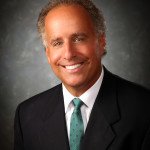 Gary is Worship Pastor at Christ Memorial Church in Holland, MI. He writes, "It has been a rough journey as April 17 was the one year anniversary of my wife's passing. God's grace has been constant each day though, through the tears and during the entire journey. When you love deeply, you grieve deeply. I serve with an incredible worship staff and my church, where I have been over 10 years, is an amazing family. Our music servants are incredible, leading with the best of contemporary to performing Messiah with our 180 member choir, orchestra, soloists, and sacred dance on Easter Sunday. I am blessed to serve God in a worship-sensitive congregation that is filled with love."
Dyton Owen (D.W.S., Kappa 2009)
Dyton was recently appointed Senior Pastor of First United Methodist Church of Junction City, KS (effective July 1). Dyton shares, "I will, among other things, help enhance two worship services as well as develop a multi-cultural service of worship. I recently published a book entitled Jesus: God Revealed and am working on two other books, one of which is a reformatting of my doctoral thesis. It will be entitled The Mind is Metaphor: (Re)discovering Sacred Sign and Symbol in the Life of Faith." Dyton's website.
Joel Phillips (M.W.S., Aleph 2004)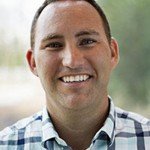 Joel has served the last 11 years as Worship Minister at Hazel Dell Christian Church, in Carmel, IN. He writes, "As I get older, I'm wondering how my role in worship leadership changes. I'm looking for ways I can pour into the next generation of worship leaders. I see myself in them (10 or more years ago). I was once that young buck, charging hard to change the worship experience and make it relevant, and now, ironically, the young guys are pushing me. I lead the area worship leader lunch gatherings. An average of 25 attend out of some 40 worship leaders on the list. It is interesting to see how my role is changing, and I'm seeking God's will in how to do that best."
Natasha Schmidt (M.W.S., Teth 2011)
"I would love to say I have been immersed in using my IWS education to its fullest, but for me, it has been a different journey. I resigned from full-time ministry halfway through my studies, disillusioned and deeply hurt. I finished my last course assignment 10 days before my first child was born. Now, our fourth little miracle has just arrived! So I have been immersed in a full-time ministry of discipleship to these sweet little gifts! But the things I took away from IWS have been life-giving for me. The depth and breadth of God's story and the knowledge that my worship does not depend on how I feel have been a lifeline for me as I struggled through a nervous breakdown and deep hurt.
"I currently serve as a volunteer on my church's worship committee where I strive to faithfully encourage the leadership and congregation to view worship in a biblical manner. I lead worship very differently now than before my IWS education, and I can see results as the Holy Spirit works to teach and inspire His people. I will always be grateful for the opportunity to study at IWS and to be fed by the Spirit in a way that will impact me and those around me for the rest of my life. Thanks be to God!"
Yeo Teck Beng (D.W.S., Alpha 2 2014)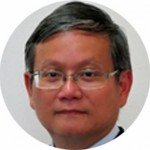 "I became the Principal of the Methodist School of Music (MSM) in June 2014. Since taking this position, I can empathize with Dr. Hart's work at IWS. I am the spiritual leader, public-relations manager, fund-raiser, and sometimes, discipline master all in one. It is stressful at times, but I am thankful when we see students becoming proficient in their instruments and serving God as church musicians and worship leaders.
"We are preparing for the 19th Anniversary Concert to be held May 7, 2016. It will feature the 70-member Methodist Festival Choir (MFC)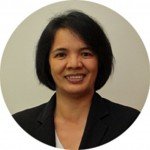 accompanied by the 45-member Methodist Festival Orchestra (MFO). Our Director of Worship and Church Music is Judith Mosomos, who is currently finishing her thesis for DWS 801. The MFC and MFO will also participate in the Aldersgate Worship Festival and Aldersgate Conference Closing Worship in May 2016.
"For the last three months, MSM conducted a series of workshops entitled Lift Up Your Voice. The workshops explored the breadth of worship music in order to broaden the congregations' repertoire. Participants were exposed to traditional hymns in the module Singing Our Faith, and contemporary praise songs in the module Contemporary Praise, taught by Bishop Emeritus Robert Solomon of the Methodist Church in Singapore and local pastors. Dr Michael Hawn taught the module on global songs entitled Across the Lands.
"I also serve as worship leader, church musician, and occasionally preacher at my home church, Telok Ayer Chinese Methodist Church. I plan the weekly worship liturgy, choose the hymns/songs, assign the weekly worship leaders, musicians, lectors and the lectionary readings. All these responsibilities would not have been possible if I had not been adequately equipped at the Institute for Worship Studies. I am eternally grateful for my studies and all my teachers at IWS, where I learned to be a servant leader following the pattern of our Lord and Savior Jesus Christ."
Sharon Welsch (D.W.S., Iota 2007)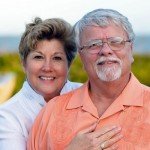 Sharon is Associate Pastor at Mars Hill Baptist Church, Mars Hill, North Carolina. In addition, she and her husband Bill operate a significant food ministry, The Lord's Harvest for the Hungry, a non-profit feeding ministry, which they began in 2011 in response to the immense need for food in Western North Carolina where 27.3% of children are food insecure. They feed over 630 families a month. See the local ABC News Persons of the Week feature on this ministry.
Barry Wilson (D.W.S., Beta 2003)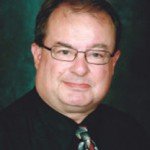 "I'm serving as an online adjunct at eight different colleges and universities including Regent, Mid-America Christian, Charleston Southern, Indiana Wesleyan, Southern Wesleyan, Nazarene Bible College, and Piedmont Tech (classroom). I teach courses on music and fine arts appreciation, worship studies and church music leadership. I've recently been called to be the Dean of the School of Worship Leadership at Missional University, a new, exclusively online university based in North Augusta, SC."
Jay Wright (M.W.S., Gimel 2008; D.W.S.. Sigma 2011)
Jay is Pastor at All Saints East Dallas. He writes, "We've been in Dallas almost 5 years now, and are planting a new parish. We've been meeting weekly since All Saints Day, 2015, and have loved encountering people from different Christian and non-Christian backgrounds. The Lord is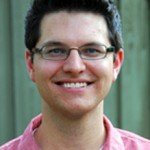 doing his own beautiful work through worship renewal as people encounter him in Word and Sacrament in ways new to them but familiar to the church. All this happens in the power of the Spirit and amazing to watch. We live in God's presence, and live out his love in three streams: Scripture, Spirit, Sacrament. I first heard about these three streams when reading Worship Old and New before I attended IWS. It's wonderful to see those seeds that Bob Webber planted through his writing and teaching come to fruition in a new work here in Dallas."