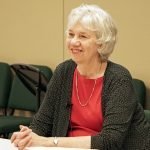 "My recent time with the IWS Worship Seminar was delightful and enriching" (Christine Pohl, June 2016).
Dr. Pohl, Associate Provost and Professor of Christian Ethics at Asbury Theological Seminary, is particularly knowledgeable in the area of healthy (and not so healthy) communities of faith. Her two-day seminar, Cultivating Community and Worship: Practices that Define and Sustain Us, was held June 13-14, 2016 on the campus of IWS. Cultivating Christian community is not easy, but it is absolutely vital. Dr. Pohl gave inspirational and practical tools for renewing communities, even those wounded by grumbling, broken promises and betrayal.
Attendees were generous in their response to Pohl's teaching and the seminar as a whole.
Dr. Pohl is an excellent speaker. She was very organized, efficient with time, and spoke with great clarity. The material was substantive and informative.
The seminar was well-organized and included meaningful discussion and group interaction. Some very important, sometimes painful, questions were addressed.
The seminar was excellent! I am impressed with Christine's depth of understanding and communication skills. Profoundly engaging!
Very relevant and applicable. The practices that lead to strong communities—gratitude, fidelity, truthfulness and hospitality—need to be (re)introduced in our churches.
Christine Pohl gave this response after her first experience on campus at IWS:
My recent time with the IWS Worship Seminar was delightful and enriching. The community fostered within the learning environment, worship times, and shared meals was exceptional. Students and faculty were deeply engaged and represented a significant array of interests and backgrounds. IWS's practice of hospitality was life-giving and contagious—a wonderful and innovative model for theological education.
Two alumni shared what it was like for them to return "home" to IWS for the seminar.
From Lou Kaloger, (D.W.S., Beta 2 2015)
What an absolute joy to return to IWS! The Commencement was glorious. Dennis Andrews' address was top-notch, and, as always, the music and proclamation of Scripture declared magnificently the story of God. Afterward, I attended the alumni reception at a beautiful home on the St. John's river near campus. We were treated to warm fellowship, a tasty meal, and a magnificent sunset! Chapel was great. I so appreciate Darrell Harris and the care and creativity he brings to the morning gatherings. In addition, hearing the IWS community sing The Lord's Prayer remains one of the highlights of every homecoming. The Worship Seminar with Christine Pohl was fantastic! Each session was rich with content and will be fodder for sermons and staff meetings over the next year. Thank you, Christine, for your thoughtful labors and gracious spirit.

My emotions were mixed when I heard IWS was moving. I have fond (and nostalgic) memories of the old campus. I will miss the IWS house, the historic chapel, and, most of all, the walks along the river. But I have to confess that the facilities at Hendricks Avenue Baptist Church are amazing. The sanctuary is beautiful, the classrooms are roomy, and the staff is over-the-top in their care and attentiveness. In addition, the nearby San Marco historic neighborhood is a great place to hang out. Google it and you'll see what I mean.

I am so excited for the future of IWS. The faculty and staff remain outstanding and, thanks to a terrific facility, the school is poised for growth. Please join me in January 2017 for the next seminar. Soli Deo Gloria.
From Jennifer Harris Clayton (D.W.S., Beta 2 2015)
Returning to IWS is to re-experience refreshment and renewal. I have often said that I was a misfit toy who finally discovered my island when I found IWS. It is a gathering of people who should not blend together well according to the usual divisions typical in denominations and traditions; yet, the beauty of IWS is that our common goals of worship renewal and care for one another transcend human definitions of community. For many, including myself, IWS is the single place to which we can come and simply be, simply worship, simply experience the presence of God through and in our brothers and sisters in Christ. Bearing the standard of worship renewal in our individual places of service can be a heavy and sometimes lonely burden. At IWS we help each other carry it.

I am so grateful to be able to return to IWS for education and growth and for the opportunities of ministry, grace, and healing within the context of worship. Reconnecting with my fellow "renewers" is a joy and honor as we share our stories and support each other in our struggles. May the Lord continue to bless IWS!
Here is a sample video clip [2:36] from the seminar. Dr. Pohl says, "Communities that love the truth will need to fight the tendency to self-deception. People who want to be good are most vulnerable."
Access additional media from the seminar:  Audio and video files from the Christine Pohl Seminar.