Alumni Focus: Mark Jonah's Journey of Faith
Mark Jonah, D.W.S. (Omicron 2009), has been on a challenging journey this past year. Many of you prayed for him. His story is a reminder that we must walk by faith, fixing our eyes on Jesus (2 Co 5:7; Heb 12:1-2).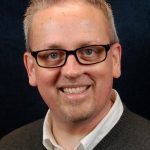 All Saints' Day, 2015 is a day I will not soon forget. I woke up not feeling well that Sunday morning. I contacted the pastor of the church where I was helping lead worship and told him I would not be there. I had the flu. Or so I thought. Over the next several days I would go through periods of feeling better and then feeling worse. On Thursday, I was much worse and I decided to go to a medical clinic. When it came time for me to sign the medical papers I told my wife, "I see the paper but I can't see where I'm supposed to sign." After a short visit with the doctor, he sent us to the emergency room at one of the local hospitals where I ended up staying until after Christmas.
My diagnosis was lengthy: I had suffered a stroke that affected the occipital lobe in my brain, which explains the vision problem when signing the paperwork; my kidneys, lungs and brain functions were shutting down; I had had a heart attack; I was suffering from a staph infection and DIC, and a left atrial myxoma (tumor in the left chamber of the heart). Typically the size of a grape, the tumor was described as the size of a large pickle (8cm X 3cm X 3cm). The staph infection was at the end of the tumor that was protruding through one of the heart valves. Every time my heart beat, the end of the tumor moved releasing infected embolisms into my bloodstream.
After six days in ICU, blood transfusions, and antibiotics (one of which I was allergic to, but that's another story!),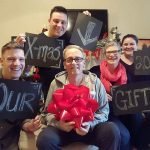 I was placed in long-term care until I could more safely undergo heart surgery. During that time my vision improved considerably, but I was getting weaker physically and suffering from small strokes because of the embolisms. Six weeks later, on Dec 17th, I underwent open heart surgery and the tumor was successfully removed.
My recovery has not been linear. Out of the hospital for a month I was back in for another week for two more blood transfusions as the antibiotic I was on suppressed the production of bone marrow.
Before I fell ill in November, I had been applying for jobs in Canada as my U.S. work visa was expiring. The illness postponed my job search for several months. After resuming the job search, I came upon a position at Prairie College in Three Hills, Alberta, which included the beginning of a music and worship ministry track alongside the song writing track that started two years ago under the leadership of singer-songwriter Brian Doerksen. I am thankful for the opportunity to continue working in higher education in music and worship ministry training.
The last 9 months have been full of life-changing events. In the midst of 12 weeks of cardio-rehab, I was looking for a job, following up with several doctors, packing, and making a 2400 mile move back to Canada. My family and I have seen the hand of God on my life and we have experienced the close bond of the community of God's people. I greatly appreciate the prayers of God's people on my behalf. The IWS community has been a blessing. A member of the Alpha class, Chris Alford who is Founder and Director of the Ancient Future Faith Network, called my wife several times during my illness to give support and offer to help in any way necessary. This is the kind of community IWS creates and that AFFN promotes.
I realize that my story is unique, and I am grateful to God that I am alive, able to write, teach and continue in the ministry of worship. During my long stay in the hospital I had a lot of time to think about being in the hands of God. He is the One who determines my path. My task is to walk the path by faith. I am learning anew what it means to be a follower of Jesus Christ and to be under his leadership for what he determines for my life. Thank you for your prayers.