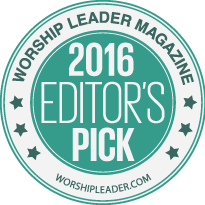 JACKSONVILLE, Fla- Worship Leader Magazine has honored the Robert E. Webber Institute for Worship Studies as one of the top programs in higher education currently influencing Christian Worship by awarding it the "Best of the Best" distinction for the sixth consecutive year.
The prestigious list of contributors in the field of Christian worship is composed annually by Worship Leader Magazine by surveying and consulting with their readers, in addition to worship leaders and media teams from around the world.
"The Robert E. Webber Institute for Worship Studies is again honored to receive the prestigious Editor's Pick designation from Worship Leader Magazine's Best of the Best selections," said IWS President Dr. James R. Hart. "This award recognizes the continuing hard work, thoughtful scholarship, expansive vision, and global impact of the students, alumni, faculty, board and staff of IWS—as well as the rich legacy of worship renewal and education left to us by Bob Webber."
The Best of the Best is a vital directory of the best resources in all manner of worship categories, including music, books, devotionals, software, technology, training, musical instruments, Audio/Video/Lighting systems, recording equipment, and more. This is the seventh time in total that IWS has appeared on the much-anticipated list.
Associate Dean and Professor in the Master of Worship Studies program Dr. Dinelle Frankland stated, "The IWS experience is profoundly life changing. Worship and study are uniquely integrated holistically in every aspect of the program. God has brought together an impressive group of his servants to teach and mentor a talented and diverse student body impacting His kingdom all over the world. Not a day goes by that my involvement with IWS does not influence my thinking, my ministry, and my spirit."
The highly-anticipated list appears in the November/December issue of Worship Leader, released November 1, 2016, by subscription, at newsstands, and for downloadable purchase.
The Robert E. Webber Institute for Worship Studies holds accredited status with the Commission on Accreditation of the Association for Biblical Higher Education. IWS offers the Doctor of Worship Studies and the Masters of Worship Studies degree programs, using a unique mix of in-class instruction on its Florida campus near Jacksonville and distance learning. More than 850 students from over 60 denominations in the U.S., Canada and twenty-seven other countries have matriculated at IWS since its founding in 1999.