By Alan Rathe, Ph.D., DWS Professor
The Robert E. Webber Institute for Worship Studies
If ministry in alienation does anything, it leads us unceremoniously to the end of ourselves.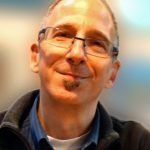 Fretting on my couch, I shook my head. My call to ministry was coming into focus, and I didn't like it one bit. I thumbed anxiously through my Bible,  desperate for a word of hope. Instead, the word I got was angular and strange: "exile."
Still, the passage from Scripture that God pressed into my heart (Jer 29:4-14) was oddly comforting. It continues to speak to me in surprising ways.
Forgive me for breaking the news: ministry is tough. It can be glorious—but it can also be grueling. Excessive expectations, strained relationships, Alice-in-Wonderland moments when nothing seems to make much sense—and all this on a salary that adds insult to injury. Best to check your ego at the door.
It was those classic, encouraging words that lured me in:
For I know the plans I have for you, declares the Lord,
plans for welfare and not for evil,
to give you a future and a hope (Jer 29:11 ESV).
It has not been, however, this comforting promise that has kept me afloat—but rather its discomforting context: the prospect of long-term exile. I understand that equating Christian ministry to Babylonian captivity sounds defiantly ungrateful. But it's really just the opposite: I've found myself welling up with thanksgiving as I've owned my identity as an exile. And along the way, four themes from Jeremiah 29 have helped me greatly.
Alientated
All in
Alloyed
(After)