Personal Updates
28 alumni share news and updates in this report. Thanks for keeping us connected!
Corey Auen, D.W.S. (Epsilon2 2017)
Congratulations to Corey who was appointed Assistant Professor of Worship Arts and Director of the Worship Arts program at Dallas Christian College in January.
Ann Barkley, A.G.C.W.S. (Zeta2 2017)
"I have been writing a devotional apologetics book with my husband, Don. We seek to encourage believers to "sanctify Christ as Lord" before giving an answer for the hope within. Please pray we find the best publisher for our digital/hardcopy compilation. My pianist position at Irvine Presbyterian Church was eliminated in August 2017. Many painful prayers and quiet Sundays away from the piano have brought me to a revitalized classic worship choir at our founding church, St. Andrews Presbyterian Church, Newport Beach, CA, and ministry at the piano and vocals in their worship band. Time will tell if God also wants me to replant the Scripture presentation groups."
Greg Barmer, D.W.S. (Alpha 2002)
"After serving 23 years at First Baptist Church, Washington, NC, as Minister of Music, I have now transitioned to serving as Senior Pastor (Feb 2018). Our previous pastor of 21 years died tragically with cancer in July of 2016."
Clay Berry, D.W.S. (Epsilon2 2016)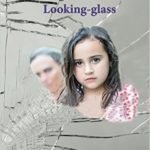 Clay's novel, Through a Shattered Looking-glass, was recently released. Clay writes, "The story grew out of personal struggles to understand the challenges endured by those suffering from mental illness. Tamara Baxter endures years of mental anguish. She meets a woman in the White Mountains of New Hampshire and realizes the power of prayer to alleviate her suffering." Clay is the pastor at Wakefield Baptist Church, Wakefield, Rhode Island.
Eric Bolger, D.W.S. (Alpha 2002)
I continue to serve as Vice President for Academic Affairs at College of the Ozarks, Point Lookout, MO. My job includes oversight of the academic program among many other responsibilities. I get to teach a Christian Worship class every other spring. It is a joy and challenge to continue to translate a biblical and historical understanding of Christian worship to this generation of 18 to 20 year olds. They are assigned James Torrance's book, Worship, Community and the Triune God of Grace. What a thrill to see them consider for probably the first time in their lives the significance of the Trinity for their worship and formation, and then to see them apply this significance to the worship planning and leading required in the class.
Steven Brooks, D.W.S. (Upsilon 2012)
Steven recently spent two weeks in Pakistan teaching on Spiritual Formation and Worship at two worship conferences, multiple seminaries/Bible colleges, and preaching in churches. His book, 
Worship Quest: An Exploration Of Worship Leadership
, has been translated into the national language of Urdu.
Marc Brown, D.W.S. (Omega 2014)
"I have enjoyed teaching and mentoring graduate worship students at Southern Seminary through teaching voice lessons and a class on the philosophy and methodology of leading modern worship bands. I am also enjoying the PhD community at Southern. One of my current seminars explores Patristic and ancient Celtic spirituality. IWS prepared me well for the demands of this new program! At my church, God has given me favor as they decided to observe the Lord's Supper each month during the search for our new senior pastor. This is an amazing stride toward worship renewal considering the long-standing tradition has been quarterly Communion! We also established worship services on Maundy Thursday and Good Friday." Marc serves as the Minister of Worship and the Arts at First Baptist Church Mount Washington, Kentucky, and as an Adjunct Professor in the Department of Biblical Worship at the Southern Baptist Theological Seminary, Louisville, KY.
Alexandra Carlson, M.W.S. (Taw 2017)
I am working with a new organization called Mantle River School of Leadership and Ministry, Mountain Home, AR. I am in charge of building a program that trains worship leaders in the theological, spiritual, and practical aspects of ministry. My studies at IWS have proved invaluable. We recently held our first event, a seminar on worship leadership. Among other things, I will be offering workshops and personal coaching to worship leaders and their teams. I am excited to see how God is going to use this ministry to bring worship renewal to my area and hopefully to churches around the country as well. I am thankful that God brought me to IWS, not only because it prepared me for this job, but because it has made me a different kind of worshiper and Christian. My leadership and ministry flows from the kind of person that God is making me and IWS is a major part of that. I look forward to the day when I can reconnect with my IWS family in person. Until then, peace be with you all.
Chris Castro, D.W.S. (Psi 2014)
Chris is Assistant Director for Teaching and Learning at University of Wisconsin-Madison. He shares, "I am doing very well in this job, although I haven't given up on someday holding a faculty post in worship. We are expecting our second daughter in May! We are members of the Episcopal church and still learning the ins-&-outs of the tradition. It's been a big, very good shift for us."
William Eichorn, D.W.S. (Alpha 2002)
"I am retired from St. Bartholomew's Episcopal Church after 32 years. I am now the Liturgist at St. Timothy's Episcopal Church in San Diego. I am leading a Wednesday evening contemplative service (Celtic/Northumbrian style) with silence, candle light, healing prayer and Eucharist. I maintain a private voice studio and enjoy helping singers from Southern California."
John Fiorello, M.W.S. (Lamedh 2018)
"I'm working on a startup called RecordME that helps people get studio recordings of live events with no upfront cost and free distribution to everyone at the event. My wife and I also run a production company that helps churches with audio/video consulting, system design, and equipment. In February we celebrated the birth of our 4th child and first boy, Levi Justice Fiorello.
"I was let go from my last worship context partly because of the IWS curse—the one that makes it difficult to continue in a context that doesn't want to pursue holistic ancient-future worship. Since then we have bounced between a few churches. We desperately need worship renewal, both in our churches and in our hearts. As the world seems to fall apart around us, the work IWS does to champion the call to biblical, historically rooted, culturally sensitive worship is needed more than ever. We're surrounded by spiritual death and complacency. We're discouraged on social media and in the news, and we're desperate to find meaning, hope, and community. Say a prayer for the local church. Say a prayer for IWS. And say a prayer for the leaders God would raise up to save a generation."
Tim Gregson, D.W.S. (Chi 2013)
Tim writes, "I learned valuable lessons about myself and my faith during a difficult year teaching middle school choir at Assumption Catholic High School in Wisconsin Rapids, WI. But my heart was is in liturgical and musical ministry. On August 1, 2017, I began as Director of Music Ministry at St. Paul Catholic Center on the campus of Indiana University in Bloomington, IN. It's Dominican run and doubles as a Newman Center. The outreach ministry to the students is quite vibrant. We even have 5 resident FOCUS missionaries. I enjoy it here and I think my family will flourish."
Jonathan Grimes, (D.W.S. (Gamma2 2017)
I am currently working as Athletics Director at Kingswood University, where fellow alum Betty Weatherby (D.W.S. Chi 2013) also works. I have started some small groups for athletes around the 4 fold model. I am glad to teach guitar and help out in the scripture presentation seminars that are held at Kingswood. I am also helping implement scripture presentation at my church.
Brian Hedrick, D.W.S. (Nu 2008)
Brian is the Assistant Pastor for Instrumental Music at Johnson Ferry Baptist Church, Marietta, Georgia, where he has served for nearly 24 years. He recently began teaching the Worship Module for the church's School of Ministry and Missions, which is a year-long intensive internship program designed to prepare candidates for church ministry. He is also hosting this year's mid-May meeting of the Metro Instrumental Directors Conference, at the Billy Graham Training Center at The Cove in Asheville, North Carolina.
Jeff Holmes, M.W.S. (Ayin 2014)
"I am now full-time with Twin Towers Senior Living Community in Cincinnati, OH, as their Music and Worship Specialist. I greatly enjoy my work with the senior population, and am looking forward to exploring new music activities with them this coming year, particularly using hand percussion and hand drums! It is great to see seniors adapt and learn new worship music with a ready and willing spirit."
Richard Hunt, D.W.S. (Delta 2004)
"After serving Village Seven Presbyterian Church in Colorado Springs for fourteen years, I plan to retire May 1. I graduated from IWS in 2004 (Go, Delta Class!); at the same time I began ministry at Village Seven. I'm eternally grateful for how God has used the life-changing IWS experience to enrich and enable my work in directing worship and teaching.
Bill Kirkwood, D.W.S. (Theta2 2018)
After completing his DWS degree Bill is focusing on coaching and consulting pastors and worship leaders in convergence worship. He writes, "As the 'worship wars' between traditional and contemporary give way to the disillusionment of what was gained from the battle, many leaders are forming new questions about what corporate worship should accomplish. I hope to use my degree and over 40 years of worship-leading experience to help leaders find answers to these questions, bringing worship renewal into their church communities."
Calvin Lam, D.W.S. (Zeta 2006)
Calvin recently accepted a new position as General Secretary of Showers of Blessing Evangelistic Ministry based in Toronto. The focus is on media, missionaries and evangelism. Also visit their Facebook page.
Khiet Lin, D.W.S. (Sigma 2013)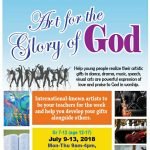 Khiet is Worship Pastor at Toronto China Bible Church, Markham Congregation. She writes, "I am organizing an Arts in Worship Summer Camp 2018 for youth, ages 12 to 17 in Toronto area churches who will gather for a week to explore the meaning of worship through the word of God and experience and express worship through their artistic gifts. The theme is Arts for the Glory of God. David Riegert (D.W.S. 2015) will teach the art of Scripture reading and prayers. Pianist Sandra Wright Shen will teach worship at the piano and give two concerts titled: Inspiration From Above. Additional classes in dance, drama, handbells, worship band, vocal and visual arts will combine to inspire and instruct the youth to love and worship the Lord. Please pray for me and the camp as we embark on this new adventure."
Johnny Markin, M.W.S. (Pe 2015, D.W.S. student)
"I am truly grateful for the way the IWS journey has prepared me for the next phase of ministry. After nearly 18 years as Pastor of Worship at Northview Community Church in Abbotsford, BC, Canada, I have been loaned to Trinity Western University in Langley, BC, Canada as part of a partnership that our church set up to assist them with their new Worship Arts Major program. I have been brought on to teach Foundations and History of Worship, develop burgeoning songwriters, and train a touring team. While my role of leading Sundays has decreased, my role of developing the next generation of leaders is one I'm truly excited about and confident in due to the excellent training and formation at IWS.
Todd Marshall, M.W.S. (Qof 2016)
My book, Worship Is Life: Finding Our Identity in the Story of Worship, recently became available in Spanish, and the audio version is nearly completed. I am taking the teaching to Tanzania for the third time in June and possibly Romania in the fall. There is talk about the book being translated into Swahili and Romanian." Todd is the Minnesota Assemblies of God District Worship Arts Director and leads the ministry, Worship Is Life.
Jennifer Martin, M.W.S. (Kaph 2013)
Jenna reports, "I'm a grateful church planter. With a precious team and, most importantly, the loving guidance of the Holy Spirit, Westside Anglican Fellowship (Diocese of Churches for the Sake of Others), Nashville, began 14 months ago. I am a bi-vocational pastor, so I also serve four days a week offering ministry, pastoral care, leading groups, etc. for people in recovery from opioids, eating disorders, and all manner of trauma at a treatment center in Nashville. The work is a wonder and a privilege."
Bob Myers, D.W.S. (Theta 2007)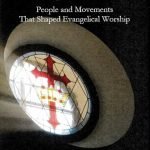 Bob is Senior Pastor at First Baptist Church in Galesburg, IL. He reports, "My book, Strategic Portraits: People and Movements that Shaped Evangelical Worship, will be published this spring by Webber Institute Books. It is written for active worship practitioners in the Free Church tradition. Our history has profoundly shaped the way we worship. Understanding our story is the first step in renewal. After narrating a broad overview of people and movements that shaped worship in the first sixteen centuries, the book focuses on five stories that profoundly impacted corporate worship for many Protestant churches. Gerald Borchert wrote in the forward, "This book includes many personal anecdotes that draw readers into the author's goal of shaking off the bonds of poor and ineffective worship practices and freeing Christians to consider new possibilities."
Bob has recently assumed the role of General Editor for Webber Institute Books with the goal of reinvigorating publishing the work of IWS graduates. If you have a book idea that you would like to pursue, contact Bob at bmyers322@gmail.com.
Claire Partlow, D.W.S. (Sigma 2011)
"For the past few years, I've taught religion for Saint Leo University (of St. Leo, FL) at their Fort Eustis, VA Army Education Center. I also authored and taught several courses in the adult education program at our home congregation, King of Glory Lutheran in Williamsburg, VA. Two peer-reviewed articles that have grown out of my recent research are published by UVA's online Journal of Scriptural Reasoning: "What Isaiah Means for Christian Worship" and "Thinking through Charlottesville with Bonhoeffer and Hauerwas: The Church-World Intersection and the Transforming Power of Ritual." This year, though, I'm taking a sabbatical from both endeavors to give myself time to do some reading and thinking that I've put off for too long."
Merril Smoak, D.W.S. (Alpha 2002)
After 39 years of ministry at Trinity Church in Livermore, CA, Merril retired last year as Associate Pastor of Music and Worship. He will continue as an adjunct instructor in worship and music at the San Francisco campus of Gateway Seminary. Read the article on his retirement.
Sue Talley, D.W.S. (Kappa 2007)
"I continue as Assistant Dean in the School of Music at Nyack College. Our New York city campus has added a degree in Gospel Music Performance. Teaching and working with wonderful students and administrators is more exciting than ever! The book our online Music and Worship Class is using, Ancient-Future Worship, is as fresh and true as when Bob Webber wrote it and we first began using it eleven years ago. The book helps restore the priority of God-centeredness in worship."
Tim Yoder, D.W.S. (Kappa 2009)
"My wife and I have been led in a totally different ministry direction.  We recently became full time house parents at the Milton Hershey School in Hershey, PA.  A school that seeks to educate and encourage over 2,000 live-in students who come from homes wracked by poverty and/or dysfunctions of various kinds."
Vincent Zarletti, M.W.S. (Mem 2013), D.W.S. (Eta2 2017)
Vinnie was recently promoted to Associate Professor and Director of the School of Worship Arts at North Central University, Minneapolis, MN. He shares, "I am honored to teach classes like Theology of Christian Worship and Historical Foundations for Music in Worship. It is incredible to bring these topics to undergrads at my alma mater. As a result of suggestions I made at the end of the last academic year, I have been given the opportunity to lead monthly communion in the chapel services. These services have included a four-fold worship structure with creedal readings, sung Psalm texts, portions of liturgical service music, corporate confessions, and extended times of musical worship around the Table. The responses from the students and faculty have been overwhelmingly positive, and it looks like these services will continue as a regular part of chapel worship in the years to come."