Anamnesis: The IWS Community Newsletter
By Kent Walters, D.W.S., Director of Alumni Activities and Editor of Anamnesis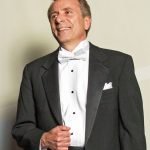 What will you encounter in this edition of Anamnesis?

Re-Enchanting the Gospel, by James Hart
What I Learned at the Movies, by Darrell Harris
Captivity, Frustration, and Other Blessings, by Alan Rathe
Stories of Worship Renewal 2018
Alumni News and Updates
Carl Park Seminar Reflections
Jesus: The Starting Point, by Gerald Borchert
June 2018 Seminar on Sacramental Worship with Dr. Hans Boersma
Restoring Harmony: Virtue and Emotions in the Psalms, by Hans Boersma
But first, please read the following "fast few" items of interest:
10TH ANNIVERSARY FOR 2008 GRADS!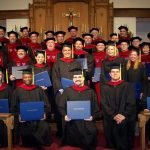 Our 2008 graduates celebrate the 10th anniversary of their graduation this June. Each year alumni make their way back to IWS to renew relationships and refresh their souls. And, for them, seeing the new IWS campus for the first time is a great blessing. Make your plans now. As you know, Florida is awesome in June! Come back home. Check out the 2008 Commencement gallery.
YOUR PERSONAL PROFILE
Have you moved or changed your job/ministry position? Do you have new contact information? Please update your personal profile in Populi. If you have trouble logging in, contact the helpdesk.
SCHOLARSHIP FUND
David Garmus, D.W.S. (Beta2 2015), our 2018 Scholarship Fund Campaign Chairman shares this encouragement:
We have commenced the 8th Annual Scholarship Fund Class Challenge. There are two ways your IWS class can win this challenge: (1) highest percentage of participation or (2) highest dollar amount. I am sure you are thankful to have benefited from your experience at IWS and that you would be willing to give back to your alma mater to ensure the continued strong enrollment of gifted students. Please make this year's Class Challenge a success for those who are in need. God bless you with a heart of generosity and a desire to see worship renewal advanced throughout the world.
Make your scholarship gift today!
JAN 2018 MEDIA LINKS
Access inspiration from the January 2018 Session. Follow the links below.
January 2018 Open Convocation sermon (Donna Hawk-Reinhard: The Holy Name of Jesus)
January 2018 Chapel series addresses: Create Dangerously
January 2018 Chapel Scripture presentations
January 2018 Session Worship Bulletins
January 2018 Carl Park Worship Seminar Media
January 2018 Session Media Collection
STUDENT TESTIMONY: IWS IS "A LITTLE GLIMPSE OF HEAVEN" [1:07]

The Lord be with you!
By James R. Hart, D.W.S.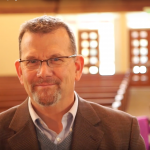 IWS Professor Dr. Reggie Kidd wrote the following in his book With One Voice:
A theology that cannot be preached is not worth having, I once heard a preacher declare. I can't argue with that. Truth that can't be applied isn't worth bothering about… The whole premise of Christianity is that to do us any good God's love had to come down from heaven, right here to where we live.

Here's a corollary to the preacher's quip: a theology that cannot be sung is not worth having either. Authentic Christian faith is not merely believed. Nor is it merely acted upon. It is sung—with utter joy sometimes, in uncontrollable tears sometimes, but it is sung.
He goes on to say, "Song is a means he has given us to communicate our deepest affections, to have our thoughts exquisitely shaped, and to have our spirits braced for the boldest of obediences. Through music, our God draws us deeper into a love affair with himself."
I want to suggest that this is not only true with music, but it is potentially true with all artistic expression. But more to it, this is precisely the role of beauty in worship—the communication and application of the truth and goodness of God that fires our hearts and souls with an intense love of God, and therefore an intense love of all mankind.  [Continue reading. . .]
Here is a video clip from the conclusion of this article which Dr. Hart presented in his presidential address on campus, January 3, 2018. The full video of the address is available here.
By Darrell A. Harris, D.W.S., Vice President for Spiritual Life
Show and tell. Tell and show.
The heavens are constantly telling the glory of God. The earth showcases his artwork. And the silver screen echoes that telling and showcasing eight days a week.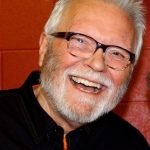 A picture is worth a thousand words—or originally, a thousand pieces of gold. Hollywood understands that math. Also, some words are worth a thousand pictures. Together, words and pictures are the ultimate double whammy. An 8th century Chinese proverb says this: "That art is best which to the soul's range gives no bounds; something beyond the form, something beyond the sound." Some movies achieve this best.
My love affair with the movies began in 1955.  [Continue reading . . . ]
By Alan Rathe, Ph.D., DWS Professor
If ministry in alienation does anything, it leads us unceremoniously to the end of ourselves.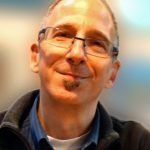 Fretting on my couch, I shook my head. My call to ministry was coming into focus, and I didn't like it one bit. I thumbed anxiously through my Bible,  desperate for a word of hope. Instead, the word I got was angular and strange: "exile."
Still, the passage from Scripture that God pressed into my heart (Jer 29:4-14) was oddly comforting. It continues to speak to me in surprising ways.
Forgive me for breaking the news: ministry is tough. It can be glorious—but it can also be grueling. Excessive expectations, strained relationships, Alice-in-Wonderland moments when nothing seems to make much sense—and all this on a salary that adds insult to injury. Best to check your ego at the door.
It was those classic, encouraging words that lured me in:
For I know the plans I have for you, declares the Lord,
plans for welfare and not for evil,
to give you a future and a hope (Jer 29:11 ESV).
It has not been, however, this comforting promise that has kept me afloat—but rather its discomforting context: the prospect of long-term exile. I understand that equating Christian ministry to Babylonian captivity sounds defiantly ungrateful. But it's really just the opposite: I've found myself welling up with thanksgiving as I've owned my identity as an exile. And along the way, four themes from Jeremiah 29 have helped me greatly. [Continue reading . . . ]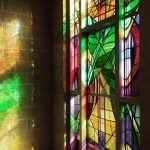 From the early days of IWS, stories of personal and corporate renewal began to surface. Inspired by course work, campus conversations and thesis projects, worship renewal initiatives have resulted in spiritual transformation for countless lives through a deeper awareness of the living Christ in and among his people. We will never hear them all, but here are a few more accounts of worship renewal. In this article you will read 14 short accounts from IWS alumni around the world including "Singing the Psalms in Corporate Worship" by Doug Bell, DWS 2018 and "It's Not Just a Piece of Bread" by Bill Price, DWS 2004.  [Continue reading . . . ]
You will be blessed, inspired and informed by these updates from 28 alumni. In addition, what a thrill to see the significant ways alumni continue to grow and make an impact for the Kingdom! The Lord is using the work of IWS and blessing the vision of Bob Webber. Thanks be to God! [Click to read on . . .]
Carl Park Seminar Reflections
"I was struck, again, by this community's beauty, oneness, mutual affection, and the kind of spiritual knowledge that, as Paul says, builds up rather than puffs up." (Carl Park, January 2018).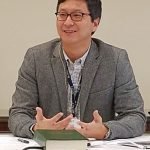 Dr. Carl Park taught an interactive two-day seminar in January 2018,  Contextualized Worship and the Mission of God in the Local Church. The seminar was enthusiastically received. Here are a few comments from the attendees.
Dr. Park was knowledgable and well-prepared. There was a good balance of teaching and discussion. It was good to learn from both professor and fellow classmates.
The seminar challenged my theology and understanding about contextualization. Dr. Park provided insights for deeper thinking and reflection.
Dr. Park was engaging and enthusiastic. I appreciate the interactive nature of the seminar and the detailed outline.
Carl Park reflected on his time back at IWS for the worship seminar:
It was so good to be at IWS for the alumni seminar, meeting alums I had not met before and re-connecting with ones I've known. It felt more like a workshop, less like a lecture, where I was enriched by all the participants as they shared observations of and implications for their respective ministry contexts. The alumni were as open, thoughtful, and gracious as I've experienced the whole school to be throughout the years I've been with IWS. Apart from the seminar itself, it was, as usual, a true pleasure to be part of the community as a whole. I was struck, again, by this community's beauty, oneness, mutual affection, and the kind of spiritual knowledge that, as Paul says, builds up rather than puffs up.
You may access audio video files from the seminar here: Carl Park Seminar Media.
View additional photos from the seminar event: Carl Park Seminar Photo Gallery.
Jesus—The Starting Point
By Gerald L. Borchert, Ph.D., IWS Emeritus Professor
A Word of Reflection to the Members of IWS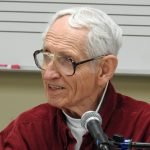 I have been reflecting on the many discussions I had with Bob Webber during the years we were colleagues at Northern Seminary and at IWS. I thought that it might be appropriate to set down briefly in writing a few of my thoughts—particularly one of them—for the members of our IWS community.
God has given and is giving the world a marvelous cadre of people who are associated with IWS and carrying on the vision of Bob to which we want to be faithful. I am convinced that the continuing prayer of those associated with IWS is that we will be a growing voice for effective, God-inspired worship renewal. In that process there is one issue that we must keep daily in mind—which we, as faculty members, came to realize early in the thesis stage of the program. That issue is that everything we do must flow from a faithful biblical and theological perspective rooted in the message of the Triune God focused in Jesus, the Christ. It is not good enough to quote a few Bible verses to support our ideas for transformation of worship and of people. Our church plans and programs like our theses must grow out of this holistic vision of our starting point. The weakest part of many drafts of our early theses was chapter 2. And so we gave special attention to rectifying that fact. But the danger of failing to remember that Jesus is not encapsulated in a few Bible verses is always before us.
The work of the Triune God and particularly the picture of God's son, Jesus, is the starting point for everything we do. And I am sure you have noticed that we do not even have a major course in music at IWS because music is not our focus, even though we love music. So, as you expand your horizons on worship and service, please do not forget your starting point! That starting point for all your future plans is absolutely crucial. The Church and its strategies, programs and activities will fizzle into insignificance if it begins with a superficial foundation that is not rooted in a faithful vision of its starting point. God bless you as you move forward in developing exciting plans for the future.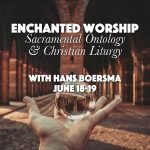 Our June 18-19, 2018 Worship Seminar will be taught by Dr. Hans Boersma, J. I. Packer Professor of Theology at Regent College in Vancouver, British Columbia. The seminar title is  Enchanted Worship: Sacramental Ontology and Christian Liturgy.
Here's a brief overview:
This seminar grounds worship within a sacramental ontology—that is to say, a way of looking at the world that acknowledges the real presence of God in earthly realities. In worship we go up to heaven to join the angelic choirs, while heavenly realities become present here on earth. We will ask how we can ground such assertions metaphysically. And we will turn in some detail to the two specific elements of sacramental worship that have always been regarded as central to Christian liturgy: Scripture and Eucharist. The seminar aims to contribute to a theology of worship that is grounded in a participatory outlook on life that re-enchants both the cosmos as a whole and our liturgical Sunday morning worship of the triune God..
Register now. Take advantage of the early registration discount and register before May 1.
Please spread the word about this seminar. Share the Facebook event.
The following is an excerpt from Hans Boersma's Scripture As Real Presence: Sacramental Exegesis in the Early Church (Baker Academic, 2017).

Restoring Harmony: Virtue and Emotions in the Psalms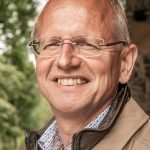 For the fathers, virtue is not only a moral category; it is also an aesthetic one.  Virtue beautifies the soul, producing a person whose character and life are in tune with the melodic principles of the universe.  It is quite understandable, therefore, that virtue took center stage as a hermeneutical category in biblical interpretation.  The church fathers were quick to ask how the biblical text can instill virtue.  They asked this question not because they are preoccupied with God as the divine lawgiver, whom we are to obey in everything we do—though saying this would obviously not be wrong in itself.  Rather, they highlight the notion of virtue as a key to interpretation because they believed that the biblical text, much like music, serves as a sacramental means uniting our lives with the harmonious character of the universe and so ultimately with God himself. [Continue reading . . . ]