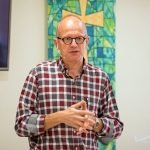 In his June 2018 seminar, Enchanted Worship: Sacramental Ontology and Christian Liturgy, Dr. Hans Boersma issued a wake-up call for Christians who have moved too far away from the worldview of the ancient Church Fathers, leading to a focusing more on the "here-and-now" than on the "always-and-everywhere." In worship we ascend to heaven to participate in the eternal worship of the triune God, while also encountering the descent of heavenly realities into our worship.
The seminar contributed to a theology of worship that is grounded in a participatory outlook on life that renews our worship and thereby re-enchants the world with God's reconciling presence.
Audio and video resources from each of the seminar sessions are available below to stream or download.

Dr. Boersma's Commencement address and his talk with the faculty appear at the end of this post.
---
Session 1—Enchantment and Christian Worship

Christian worship assumes that this-worldly, created realities are open to the life of God.  A sacramental ontology, based on Christian Platonism, helps in understanding corporate worship.
Enchantment and Christian Worship [Download audio, 56:01]
---
Session 2—Telos and Time in Sacramental Worship

In worship we join heavenly realities. What does this mean for how we understand our purpose (telos) and the concept of time.
Telos and Time in Sacramental Worship [Download audio, 60:07]
---
Session 3—Sacramental Worship and Modernity
Not every way of explaining the creator-creature relationship is equally friendly to Christian worship. Early modern changes in metaphysics rendered traditional Christian worship implausible.
Sacramental Worship and Modernity [Download audio, 61:02]
---
Session 4—Scripture as Sacrament, Pt. 1: Origen, Hobbes, and Spinoza

This lecture presents a case for a reappropriation of the "sacramental hermeneutic" common among the church fathers. Seventeenth-century philosophical developments obstructed a sacramental reading of the Bible.
Scripture as Sacrament, Pt. 1 [Download audio, 61:00]
---
Session 5—Scripture as Sacrament, Pt. 2: Christ in Isaiah
Jesus Christ is the original truth or reality (the archetype) on whom ancient prophecies (as types) are patterned. More than just fore-telling the future, prophecy engages in a forth-telling of the real presence of Christ.
Scripture as Sacrament, Pt. 2 [Download audio, 38:37]
Scripture as Sacrament, Pt. 2—The Servant Songs of Isaiah [Download audio, 23:36]
---
Session 6—Eucharist and Time: Why Participation Means Sacrifice
What does it mean to offer up everything we have received from God, in thanksgiving, in Eucharistic worship in the Upper Room? The biblical teaching of time helps us understand the Eucharist as sacrifice.
---
Session 7—Eucharist and Space: Why Participation Means Real Presence
The reconfiguration of space through participation in Christ means that we need a doctrine of real presence. If in and through the Eucharist our spatial categories are transcended, this can only be because Christ is truly or really present in our midst.
Eucharist and Space [Download audio, 60:00]
---
Session 8—Music as Sacrament

Music is far more than ornamentation in Christian worship. Music may also be regarded as sacramental in character.
---
Additional Boersma Seminar Event Resources
Commencement sermon video, June 2018: Worship Takes Time [19:45], Dr. Hans Boersma
Heavenly Participation: The Author's Perspective (Faculty Retreat, June 2018) [Download audio, 55:25]
Hans Boersma describes his impression of IWS: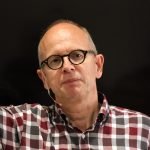 The Robert Webber Institute for Worship Studies is exactly what Bob Webber would have hoped for—a school that is grounded in tradition, serious about theological engagement, and passionate about worshiping the triune God. At IWS, ancient-future evangelicals learn to put the riches of the Christian tradition to work in their own churches. Rarely have I met a gathering of musicians and worship leaders more eager to come to grips with the implications of the church's theological heritage. This is a place where fellowship, worship, and teaching merge into a harmonious offering of praise and thanksgiving.