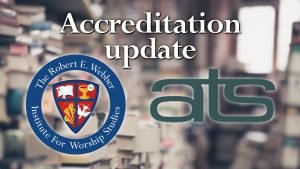 On Friday evening, February 5, we received notice that the Commission on Accrediting of The Association of Theological Schools has granted the Robert E. Webber Institute for Worship Studies (IWS) initial accreditation for the Master of Worship Studies and Doctor of Worship Studies degrees for the maximum allowable initial time period of seven years.
IWS was commended for, and encouraged to maintain and enhance, the following distinctive strengths:
A clear understanding of the mission and vision of the institution, which is shared by the school's various stakeholders.
An ethos of learning in community characterized by a sense of mutual respect and humility among teachers and learners.
The exceptional dedication of the faculty, administration, and board of trustees in serving the students in the context of global worship renewal.
I want to express my deepest appreciation to those who led the accreditation process: Dr. Steve Huntley, Director of Institutional Effectiveness and Planning, Dr. Dinelle Frankland, Academic Dean, Mark Murray, Vice President for Enrollment, and Dr. Jessica Jones, Associate Dean for Assessment. I also want to thank all who contributed invaluably to the accreditation process, to Dr. John Lindsell and the entire board of trustees for their support and leadership in this pursuit, to the superb faculty and staff for their tireless efforts and commitment, and for the prayers, support and input of our stellar alumni and students.
I want also to thank ATS for their encouragement, support and advice in our pursuit of accreditation. In particular, I want to acknowledge Dr. Lester Ruiz, who has graciously and expertly led us, advised us, encouraged us, and stood alongside us through the ATS accreditation process. Lastly, thank you, thank you to our faithful supporters for partnering with us to advance the Kingdom around the globe through worship renewal in the context of theological higher education.
Thanks be to God!
James R. Hart,
IWS President
For more information about IWS accreditation and authorization:
click here
.