Looking back on it now, I can't believe we thought it was the right time for me to be starting the DWS program at IWS.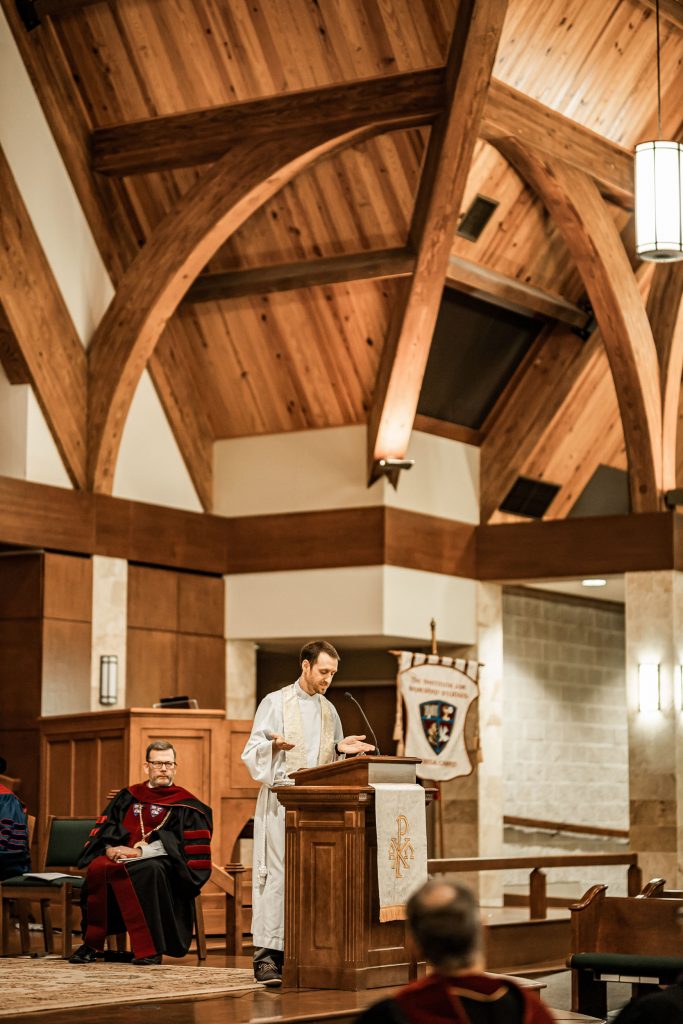 After all, my wife and I had a two-year-old, and baby #2 was arriving in just one month. Our church was in the process of sending us out as part of a church planting team, the first such team our church had ever commissioned. And my responsibilities at work were growing, too.
In other words, it felt like our life was about to go from busy to crazy busy. Starting a doctorate? Now?
And yet, when I felt that initial nudge from the Lord—psst, you should apply to the DWS program at IWS—I didn't dismiss it outright. Despite all the seeming evidence to the contrary, starting a Doctor of Worship degree at this time in our lives felt… right.
My wife and I were honest with ourselves when it came to counting what the DWS program would cost us:
We knew there would be a time commitment with starting the DWS program at IWS—time spent in the classroom during the intensive week sessions, and time spent in the library afterward as I undertook the reading and writing for each course. And of course, this would mean some time away from my family. But if I enrolled on the extended schedule, taking only one course a year, I would only need to set aside about 8 hours per week for my studies. And suddenly, that seemed pretty doable.
We also knew there would be a financial commitment. But IWS's tuition was very competitive when compared with similar schools. And by enrolling on the extended schedule, I'd only need to make payments and buy textbooks once a year. We could manage to fit that into our budget.
So my wife and I talked about it, we prayed about it, we sought the counsel of others. And in the end, we were convinced of four things about the DWS program:
This was an investment worth making. My family was in the beginning stages of what would become a church plant later that year, and we felt that starting a DWS would be invaluable to us as we undertook this new ministry assignment. My time in this program, and the projects that I would be creating and implementing as part of the coursework, would be of immense benefit in launching this church plant and helping it gain traction. The DWS was an investment in that work, and in the people God was calling us to serve through it.
If not now, when? We asked ourselves, would there ever be a "perfect" time for starting a DWS? Would life ever get less busy? We didn't want to talk about doing this "someday" if we thought that day might never come. So… if not now, when?
Flexibility. We took comfort in the fact that I wouldn't be the "odd one out" in my cohort. All my classmates would be worship practitioners as well: pastors and priests, worship leaders and musicians, missionaries and teachers, and counselors. We knew the program was structured with such students in mind, and that the coursework was designed to be integrated alongside the work the Lord had already called each of us to do. In other words, starting a DWS would be flexible with the kind of life we were living.
God's got this. My wife and I knew that God wouldn't call us into something we couldn't manage. He would give us what we needed when we needed it. We trusted that any challenges we encountered would be used by Him for our benefit and our growth.
Indeed, my DWS journey did have its share of challenges. It is a doctoral program, after all, with doctoral-level requirements for reading and writing!
And life happened, too. During my time as a student, I needed some extensions and grace from my professors along the way. I had to take a leave of absence when baby #3 was born with some health issues, requiring my family to relocate to another city for a short period of time. I watched the other members of my cohort advance in the program, eventually making it to graduation day, and I couldn't help but wonder if that day would ever come for me, too.
But it finally did. And if I can do it, then anyone can. IWS made it possible because IWS had students like me in mind.
I was balancing a busy job, a growing family, a burgeoning church plant, and a whole host of other life surprises during my time as a student. None of these were deal-breakers for IWS. At every step of the way, the IWS administration and IWS faculty were there to support me and work with me. And not just me, either: I heard similar stories from my classmates, how IWS was working with them to help figure out everything from financial aid to childcare support. It's a wonderful community, a one-of-a-kind place to learn, study, and grow.
So if you are considering starting a DWS or MWS program at IWS (and I hope you are!) then take my story as an encouragement. You can do this!
Find out more about how IWS here | Learn about the curriculum of the DWS & MWS programs here