What People Are Saying
Here is a personal word about the Institute for Worship Studies from a current student, faculty member and alum.
Current Students
David Suum

Current D.W.S. student David Suum describes what IWS has meant to him and his ministry in Myanmar.
Tami Cinquemani

Current M.W.S. student Tami Cinquemani tells what a difference IWS has made in her life.
Mike O'Brien

Current M.W.S. student Mike O'Brien describes what it has been like to come to IWS, and how it has contributed to the renewal of worship at his home church. This video won our 2014 Video Contest.
Professor Donna Hawk-Reinhard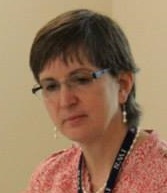 At the Robert E. Webber Institute for Worship Studies, my academic work as a historical theologian, my life-long passion for exploring the diversity of Christian spiritual practices, and even my engineering training are being woven together in ways that I never dreamed could be useful in God's redemptive mission.
Each term, as we wrestle together with deep, mystical, and yet very practical aspects of the Christian life, God meets us in transformative ways that are challenging and healing. With each group of students, I feel challenged to continue deepening and widening my research in Christian identity formation. With each class, I am amazed and delighted to see how God takes our classroom discussions to bless us to be blessings for each other and for our home church communities. For a historical theologian who is concerned with the practical application of her work, it just doesn't get any better than this.
Dr. Donna Hawk-Reinhard, Professor
DWS 704: The Sacred Actions and Ministries of Christian Worship
Alumnus James Dodge

Jim Dodge Through the mission of IWS, God transforms worshiping communities as He transforms the worship student. That certainly has been the case in the world I inhabit. The school where I teach held no affinity with the ancient-future discussion so much a part of IWS. Gradually, as God transformed me, He worked His grace into our school. The same holds for my church. An emerging culture of worship with more intentional identification with Christ through the ages is evident in our community.
If not for Bob Webber's obedience to God's vision where would my college and church be? If not for IWS-trained ambassadors of Christian worship renewal, how would the worshiping community realize its context in a heritage as old as the Apostles and Church Fathers? I think about this stuff—a lot! Now I can add my voice to advance the call for renewed, God-honoring, transformational worship for the life of the Church. I heartily endorsement the work of the Robert E. Webber Institute for Worship Studies!
James Dodge, DWS (2008)
Canby, Oregon