This little babe so few days old,
Is come to rifle Satan's fold;
All hell doth at His presence quake,
Though He Himself for cold do shake;
For in this weak unarmèd wise
The gates of hell He will surprise.
-from "New Heaven, New War," by Robert Southwell (1561-1595)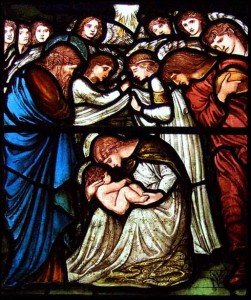 In a recent Christmas greeting, a church leader expressed gratitude for God coming to rescue us through sending His son, Jesus Christ. While this is absolutely true, we must be careful to avoid the view of the incarnation as a rescue of humankind from a failed cosmic campaign. Rather, Jesus came in the fullness of time, at the turning point of history, to vanquish entirely the forces of sin, evil and death, and to "surprise" and trample underfoot the very gates of hell. God didn't just rescue his highest creation from these forces, but he became that which he created, declaring final victory and bringing about the reconciliation of man with God. The eternally begotten Word of Life became weak and frail human flesh so that human flesh may be victoriously united back to God.
Thanks be to God!
Giving to the Annual Fund
If you have not yet taken the opportunity to remember the work and mission of IWS in your 2011 giving, please prayerfully consider partnering with us. Your participation at any level is vital and appreciated. Checks should be sent to IWS, 151 Kingsley Ave., Orange Park, FL 32073. Tax deductible donations may also be made online. Gifts may be designated in memory or honor of a loved one, and/or may be anonymous.
Your prayerful and sacrificial generosity toward the Lord's work through the ongoing ministry of IWS is absolutely vital to the mission of worship renewal.  We not only appreciate your participation, we depend on it!
On behalf of the trustees, faculty and staff of the Robert E. Webber Institute for Worship Studies, thank you for your generous support of our God-given mission this year. May the Lord bless you richly with the reality of his presence this Christmas season and always. Merry Christmas!
The Lord be with you,
James R. Hart, President
Annual Report Now Available
If you haven't done so, please take a moment to read our 2010-11 Annual Report. You will find it to be an enjoyable and interesting read. Join us in thanking all who have made this year an unprecedented success!
You are encouraged to forward this link to interested friends and potential students.
Holiday Postscript
I thought you may enjoy this song, "In a Byre Near Bethlehem," by John L. Bell of the Iona community. It expresses the victory of God through Christ in a joy-filled, understated musical narration: In a Byre Near Bethlehem.
Here are the lyrics:
In a byre near Bethlehem
Passed by many a wandering stranger
The most precious Word of Life
Was heard gurgling in a manger
For the good of us all
By the Galilean Lake
Where the people flocked for teaching
The most precious Word of Life
Fed their mouths as well as preaching
For the good of us all
And He's here when we call Him
Bringing health, love, and laughter
To life now and ever after
For the good of us all
Quiet was Gethsemane
Camouflaging priest and soldier
The most precious Word of Life
Took the world's weight on His shoulder
For the good of us all
On the hill of Calvary
Place to end all hope of living
The most precious Word of Life
Breathed His last and died, forgiving
For the good of us all
In a garden, just at dawn
Near the grave of human violence
The most precious Word of Life
Cleared His throat and ended silence
For the good of us all
©1987 Wild Goose Resource Group, Iona Community, Scotland
GIA Publications, Inc., exclusive North American agent
7404 S. Mason Ave., Chicago, IL 60638
http://www.giamusic.com/
800.442.1358