IWS is hosting its second tour to Greece: Footsteps of Paul in Greece, July 1-13, 2024 led by DWS 704 professor Dr. Amy Davis Abdallah.
For the Christian, Greece is rich. Paul first proclaimed the Gospel to Europe in Philippi, gave his most famous sermon in Athens in sight of the Parthenon, and had a close relationship with the church in Corinth. We will visit all these locations and much more.
Meet our trip leaders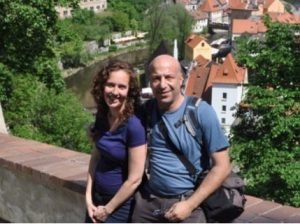 Amy and Ghiath Abdallah's teamwork started the day Ghiath welcomed her to Damascus in 2010. Ghiath was Syria's top-rated tour operator for over 25 years, leading trips for American Museums and Universities in the Middle East and Europe. Ghiath lectured at all sites, traveled with groups, and shared the culinary delights of each region. Amy was a professor bringing a group of students to observe and experience the biblical and early Christian sites of Syria and Lebanon. She had already led trips to the Holy Land, Egypt, and Turkey. Their teamwork grew into a delightful marriage with two wonderful sons. They have taken multiple tour groups to Greece to walk the Footsteps of St. Paul, including last year's IWS Greece 23. Amy and Ghiath share a passion for the history, biblical sites, worship, culture, and food of the Mediterranean. Amy is a gifted author, professor, and preacher. Learn more about her life and work here.
Join the experience
You can be a part of this memorable, once-in-a-lifetime experience that combines exciting travel, nurturing community, and inspirational learning.
Follow this link to view the trip brochure, which explains the details of each day's adventure, trip cost, and registration information. Space is limited so act soon!