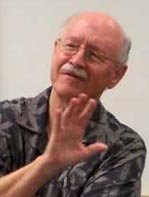 This seminar with Dr. Robert Stamps focused on the Lord's Supper, with the goal of providing an informed and experiential understanding of what can transpire at the Table of the Lord. It does not matter what happens to the bread at the Table if nothing happens to the people who eat it!
Dr. Stamps described his personal journey that led from youthful inquiry as to the meaning of the Lord's Supper to teaching Sacramental Theology at a seminary. The seminar was rich in theological content, but richer still for the way it showed how Christ sits down with sinners at His Table, refusing to let them leave unchanged.
Use the embedded player to listen directly on this page or right click the track title to save it for listening later offline.
Day One
Devotional – Lessons from Corrie Ten Boom (9:14) [Ellen deKroon Stamps]
Session 1 – First Questions: Hungry for More Than Bread (48:16) [Bob Stamps]
Session 2 – First Answers: Just a Remembrance (56:19) [Bob Stamps]
Session 3 – The Real Answer: From a Vicar, a Book and a College (58:29) [Bob Stamps]
Session 4 – Formative Guidelines: God's Banquet on the World's Table (53:15) [Bob Stamps]
Day Two
Devotional – Lessons from Corrie Ten Boom, Part 2 (11:02) [Ellen deKroon Stamps]
Session 5 – Perfect Milieu: Real Presence as Real Encounter (35:28) [Bob Stamps]
Session 6 – Frustrating Academy: What Happens to People? (71:49) [Bob Stamps]
Session 7 – Imperfect Milieu: The Parish in Which God Shows Up Anyway! (65:04) [Bob Stamps]
Session 8 – The Goal: Old Wineskins Made New (39:21) [Bob Stamps]
Tags: Corrie ten Boom, Eucharist, Holy Communion, Lord's Supper