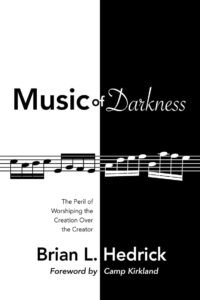 The Institute for Worship Studies is pleased to announce the publication of Music of Darkness by Dr. Brian Hedrick (DWS, '08), the latest release from Webber Institute Books.
Idolatry is a sin, but can music actually be an idol? And is musical idolatry only found outside the church, or can it also be a temptation for Christian believers? As a lifelong church instrumentalist and music educator, author Brian Hedrick explores the dynamics of this phenomenon in our modern culture, then proposes a prescription to restore music to its proper biblical perspective.
While Hedrick enjoys the beauty and challenge of secular classical music, he has noticed over the years that the attitude of church musicians toward the higher ideal of music is strikingly similar to the way we revere Jesus Christ in worship. In the same way that we might say, "It's all about Jesus," Hedrick has heard church musicians say with equally great conviction, "It's all about the music." In Music of Darkness, the author urges individuals to put music back in its proper perspective and rightful place, both inside and outside the church.
A graduate of Florida State University, Southwestern Baptist Theological Seminary, and the Robert E. Webber Institute for Worship Studies, Hedrick and his wife, Mellonee, live in Marietta, Georgia, where he serves as the assistant pastor for instrumental music at Johnson Ferry Baptist Church.
To purchase Music of Darkness, click here.
For more information about Webber Institute Books, click here.