Anamnesis: The IWS Community Newsletter
---
Contents
---
From the Editor
By Kent Walters, D.W.S., Director of Alumni Activities
Waiting: The Mysterious Made Clear
This summer, I have been engulfed in numerous administrative decisions in my work at Cornerstone University. Many of them take considerable time to resolve and call for divine discernment. I've sought wisdom from Scripture and have received several promises from the Lord that have anchored my soul in trust and hope. Here is one of them:
This is what the LORD says—

your Redeemer, the Holy One of Israel:

"I am the LORD your God,

who teaches you what is best for you,

who directs you in the way you should go.

(Is 48:17)
Near the end of the 704P Service of Healing and Renewal that was presented on July 30 (see the link to the video below), Mason Ballard's worship team led the song, He Will Hold Me Fast. The arrangement begins with a violin solo playing the hymn tune FINLANDIA. Immediately, the Holy Spirit brought lyrics to my mind from the hymn Be Still, My Soul that I had memorized long ago: "Your hope, your confidence, let nothing shake; all now mysterious shall be bright at last."
These words were a delightful reminder that clarity comes in God's perfect time.
We all know the consequences of forging ahead often full of faith but without a clear sense of God's direction. Consider this indictment of Israel by the Psalmist: "But they soon forgot what he had done and did not wait for his plan to unfold" (Ps 106:13). And, the beautiful promise I quoted above is followed by this verse:
If only you had paid attention to my commands,

your peace would have been like a river,

your well-being like the waves of the sea.

(Is 48:18)
Patient, faith-filled waiting and wholehearted allegiance to the Lord's commands are requisites for peace–the refreshing flood of the soul that we all long for.
I'm watching God answer my prayers one by one, and quite miraculously from my perspective. Thanks be to God! But there are areas of my life and work that are still shrouded in mystery. Buoyed by God's peace, I rest in the hope that all shall be clear at last.
---
In Case You Missed It: June 2021 Links and Resources
Chapel Series: Wonderful Words of Life
Service of Healing and Renewal: Shall We Gather at the River (Video link)
Service of Healing and Renewal: Shall We Gather at the River (Worship bulletin)
IWS Bibliography (June 2021 Update)
---
Presidential Address: Lilly Endowment Pathways for Tomorrow Initiative and the Mission of IWS
By James R. Hart, D.W.S.
IWS was awarded a $50,000 grant in Phase 1 of the Lilly Endowment Pathways for Tomorrow Initiative.
In the current economic and political climate, students are seeking higher education opportunities that are reasonably priced and accessible, but without a compromise in quality of educational content and formational impact. The low-residency model that IWS has embraced for 22 years has served those needs very well as we have kept costs at a reasonable level, offered institutional financial aid, avoided increasing student loan debt, and maintained a reasonable time demand on students through the use of semiannual intensives.
Giving consideration to the recent pandemic, the diversity of the student body, shifting demographics in North America and abroad, the rapid growth of digital media, and global and domestic struggles over racism, equity of opportunity, political polarization, poverty, the secularization of the Church, postmodern pluralism, etc., we are presented with a number of challenges and opportunities.
This spring, IWS was awarded a $50,000 grant in Phase 1 of the Lilly Endowment Pathways for Tomorrow Initiative to begin addressing the challenges and opportunities listed above through assessment and planning activities. IWS leadership has identified six initiatives of opportunity, which I will discuss in prioritized order.
[Click here to continue reading or watch in the embedded player below ]
---
Worship in the Garden of Eden
By Eric W. Bolger, Ph.D., D.W.S. (Alpha 2002)
Dr. Bolger is Vice President for Academic Affairs and Dean of the College at College of the Ozarks in Point Lookout, MO, where he also teaches courses in Bible, theology, and worship. He currently serves as the Vice-Chair of the IWS Board of Trustees. Eric taught MWS 501 Biblical Theology of Worship for 14 years, beginning with the inception of the MWS program, and served as the academic dean of IWS from 2007 to 2010.
Worship is a subject that can engender passion. Many are aware of the so-called "worship wars" of the past few decades in which congregations struggled to forge their way between the apparently opposing styles of "traditional" and "contemporary" worship music. Historically, aspects of the Protestant Reformation focused on worship, with Martin Luther rejecting some and accepting other aspects of the Roman Catholic worship of his time. Other reformers such as John Calvin and Ulrich Zwingli and their followers differed from Luther on matters of worship, ranging from the type of music and instruments used in services to sometimes intense disagreements over the mode and timing of baptism and the Lord's Supper.
Scripture, not surprisingly, has much to say about worship.
[Click here to continue reading . . . ]
---
Update on the Bileya Children
June 1 marked the first anniversary of the martyrdom of our brother and sister, Emmanuel and Juliana Bileya, as well as their unborn child. The IWS community continues to mourn and remember them, sharing stories, photographs, and other memories from Emmanuel's visits to campus. Click here for a tribute to the Bileyas. Emmanuel was awarded the DWS degree posthumously at our virtual commencement ceremony in April 2021.
Many have asked about the Bileyas' eight surviving children, who now range in age from 2 to 20. Although details must be kept scarce to protect them, we can report that the children are doing as well as can be expected, with the oldest child soon to graduate from university, another just starting university and all the rest enrolled in the age-appropriate schools. Custody has been split among three of Emmanuel's relatives. The children have not faced any health challenges during the pandemic.
As you can imagine, the financial costs associated with providing for the children's ongoing education, day-to-day care, and trauma counseling are considerable. Would you consider making a gift today to help support the children and their caregivers? If you would like to make a donation, here is the link to the website for the specific fund with Resonate, the Christian Reformed Church's Global Mission, where gifts can be given to support the Bileya children. Please note that your gift will be used not only to assist the children but also for other needs in that area of Nigeria UNLESS you specifically write and request that 100% of your gift be used for the Bileya children. IWS is unable to make that request for you, so as soon as you have sent your gift, please write to Mike Van Der Dyke and let him know how you would like your gift to be designated. Resonate Global Mission reports that over $25,000 has been donated to the Bileya fund over the past year. Thanks be to God!
We invite you to join us in praying for the children's ongoing protection and provision:
Gracious and loving God, knowing that you care for the fatherless and are a defender of the weak,
we pray for your continued comfort for the Bileya children and your provision for their every need.
Give them a sense of your presence today and every day and enable them to trust in you for their future. We ask that you would keep these beloved children on our hearts and minds,
and remind us to pray for and encourage them.
In the name of Jesus Christ, Amen.
---
Convocation Homily: He Must Increase, I Must Decrease
By James R. Hart, D.W.S.
Dr. Hart presented the following homily for the June 2021 Opening Convocation. The video recording is available here.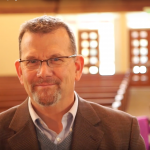 Happy Vigil of the Feast Day of the Nativity of St. John the Baptist! Although this great feast day is relatively unknown in many ecclesial communities today, it has been a solemnity, a major feast day of primary importance in liturgical traditions since the early 6th century, making it one of the oldest festivals in the Christian calendar. Why is it such an important day of celebration? We cannot fully comprehend who Jesus is and what his mission is all about unless we first pass through the mission of John the Baptist.
[Click to continue reading . . . ]
[Link to the June 2021 Opening Convocation Service Video]
---
Alumni News and Updates
Mason Ballard (M.W.S., 2019)
I will be recording an album of 14 original songs entitled "Songs for the Christian Life." Some of the songs were written for MWS 601. Many of the songs speak to the narrative of salvation history. Others are more personal. One of my favorites is a Eucharistic song that reflects the Words of Institution and Passover. Two of the songs were co-written with my friend Rachel Hickling (songwriter of the year at Liberty University in 2016). I hope to complete the project by late September. Prayers are appreciated as I take this on during DWS 704 work. Updates on the album will be featured on my Instagram: @mason_l_Ballard.
Pat Bennett (D.W.S., 2008)
I've been through a lot of changes in recent years, but I am now serving as the Director of Music Ministries at First United Methodist Church in Tifton, Georgia. I am also an Affiliate Consultant with Dwight Whitworth and Company, a ministry-minded company that helps churches and ministers connect. I am still playing French horn with the Florida Worship Choir and Orchestra. My wife and I help with a Celebrate Recovery program here in Tifton, and we have 7 grandchildren!
Randy Bonifield (M.W.S., 2017)
On August 6, Randy released the single Come Sing for Joy, a new worship song based on Psalm 98. He wrote it in response to the Biblical Theology of Worship Course (MWS 501) taught by Dr. Dinelle Frankland. In 2020, Randy accepted an adjunct professor position at MidAmerica Nazarene University in Olathe, KS, as part of the worship arts degree program. He leads the Contemporary Worship Ensemble and teaches the Techniques of Worship Leadership course. In February, Randy and his wife, Wendy, became grandparents when they welcomed their grandson, Micah Dallas Johnson, to the family (daughter, Erin, son-in-law, Bennett). In September, Randy will celebrate 18 years as Worship Pastor at Christ Community Church in Leawood, KS.
Linda Borecki (D.W.S., 2005)
Linda works at Christ the Vine Lutheran Church, Damascus, OR, and remained mostly sane during the seemingly interminable recording of services during Covid restrictions. She discovered her uncle's 1990 trip journal while researching family history and traveled to Nebraska in April to retrace his steps and regain a little sanity and perspective on life. In this picture, she is sitting at the exact spot her toddler mother stood for a photo in 1926.
Dale Dirksen, (DWS 2003)
I left my vocational church ministry role in June 2019. Since then I have been teaching at Horizon College and Seminary in Saskatoon in an adjunct role. I recently signed an MOU to teach 3-4 courses per year at Horizon for the next 5 years. I also established Dale Dirksen Coaching and Consulting, which is very rewarding. A recent family picture is attached that includes a grandbaby that was added during the pandemic!
Jennifer Freeman (D.W.S., 2014)
I am beginning my 21st year at College of the Ozarks in Branson, MO as the Director of Christian Formation. I love the work the Lord has given me in the lives of college students. In the last few years, I find myself facilitating growth in older adults, especially those adults transitioning into different life stages. I recently contributed to a book about the third stage of life entitled The Sacred Switch that should be published in early 2022. I am doing private spiritual direction with individuals as well as group work, both in-person and online.
Ken Gehrels (D.W.S., 2005)
We mourn the loss of our brother, Ken, who went to be with the Lord on May 10, 2021, after courageously battling cancer for a year and a half. In his obituary, Ken was described as "a vibrant leader, a man of deep convictions, a friend of God and countless others." Friend of God is the perfect description of Ken and of his powerful witness of a life well-lived. He was the pastor of Kemptville Christian Reformed Church in Kemptville, ON, and an avid runner. To his family, Ken was a devoted and beloved husband, dad, and "Opa," whose quiet and profound sense of love, faith, and loyalty will live on for generations. He was a committed alumnus to IWS and a lifelong friend to many in his cohort. Ken and his wife Sharon were frequent attendees at IWS worship seminars and they always took part in chapel services, practicum presentations and meals on campus each time they were here. Rest in peace, dear brother.
Vince Godfrey (D.W.S., 2020)
I changed jobs and moved to California to be the Pastor of Worship & Liturgy at the First Christian Reformed Church of Hanford (CA,) beginning June 2020. We are near family for the first time in our marriage and ministry, so that is an added blessing. God continues to bless beyond anything I could imagine or deserve!
Levi Henkel (D.W.S., 2021)
Levi assumed the role of Director of Music for Christ Church Anglican in Mount Pleasant, South Carolina on June 1. God has been gracious in this transition and there have been so many blessings!
Teresa Ho (D.W.S., 2008)
While I continue to teach for the Alliance Bible Seminary, God has opened doors for me to serve Him in various online programs. The singing class I have been teaching is now live online and is well-received. In mid-August, I will be conducting two virtual seminars in British Columbia on the topic, Engaging with God in Worship. Later this year, I will teach The Biblical Principles of Worship for a Chinese Seminary in the U.S. Thank God for His wonderful guidance and abundant provisions. My new book, Logos: Sermon and Service Rundown Made Easy, published by Baptist Press (International), was released during the pandemic in 2020. The book illustrates how the sermon and the worship service work together to enhance the word of God in worship. I pray that God will grant me wisdom, strength, and good health to serve in order to fulfill His plan.
Richard Kong (A.G.C.W.S., 2010)
Rick became the president of Washington International Mission University on May 15. The missionary-oriented university has 5 branch campuses around the world including Korea where it trains Chinese church leaders. Its main office is in the Seattle area. Prospective students come from the U.S. and around the world and are taught both online and in-person. Rick continues as Executive Director of the Federal Way Youth Symphony Orchestra and Senior Pastor at Faith Church.
Johnny Markin (D.W.S. 2020)
On August 1, I begin as Worship Director at Cloverdale Baptist Church, Surrey, British Columbia, Canada, where I will train worship teams and lead services. The church is interested in hosting Worship Leader Institute, the initiative I launched in early 2021, as part of their vision of being a resource to other churches. The church is part of The Gospel Coalition Canada network. My album "Light of Day" (which I've nicknamed a lockdown liturgy project) is due for full release in September. The album includes a rendition of a song created for our DWS 703P class—Have Mercy, co-written by Josh Lavender, Meghan Benson, and Angie McLaughlin. Several other IWS friends appear on that song and on the closing track, which is a benediction called May The Grace. Darlene and I are encouraged at the faithfulness of God and the joy of knowing that he directs our paths even when it feels like life is shrouded in fog! Sola Dei Gloria!
Todd Marshall (M.W.S., 2016)
One of the pivots we had to make during the pandemic was doing more international ministry via technology. One of those places has been Pakistan. After a year of online ministry, my son and I were able to travel there in May. We are helping them buy the property pictured here to build an orphanage and school. Lack of education is the primary factor contributing to the cycle of poverty, and lack of biblical teaching is the primary factor in keeping them from growing God's Kingdom. IWS has greatly influenced my Worship is Life teachings, which will be foundational for their ongoing education.
Gary Matthews (D.W.S., 2004)
After 40 years of worship ministry, I have retired from my full-time position. I had the tremendous opportunity to lead in wonderful and challenging churches through the years: 5 years at Calvary Memorial Church in Philadelphia, PA, 20 years at Highland Park Baptist Church in Southfield, MI, and finally 16 years at Christ Memorial Church in Holland, MI. I look forward to being engaged with worship and the arts by continuing a concert ministry with my wife, Martha, supporting Martha in her national work in the Handbell world, serving on various boards, and even helping my IWS colleagues find God's next place in ministry through employment advising. [See more on this in the IWS JOB POST.] I am also finding great joy in being nudged by the Holy Spirit to do something and having the time to respond without checking a calendar! I am thankful for the amazing blessings He has poured into my life!
Rory Noland (M.W.S., 2018)
Rory's newest book was released in July 2021, Transforming Worship: Planning and Leading Sunday Services As If Spiritual Formation Mattered. The book offers a vision for worship as spiritual formation. Rory posits that we need to reclaim our worship services as a formative space. Spiritual formation is the key to the survival of our faith. There is an urgent need today for church services that are substantive and purposeful. Stigmatized by scandal, the church in North America and throughout Europe has been branded as useless and irrelevant. To stem the tide of nominal Christianity, we need to get serious about making disciples who can make other disciples.
Dyton Owen (D.W.S., 2009)
I am currently serving Chapel Hill United Methodist Church in Oklahoma City (effective May 1, 2021). The church is developing new ministries as well as enhancing current ones. We are working on worship education, and we are blessed to have a fantastic Sunday Experience Director who was taught by Constance Cherry.
Michael Owenby (D.W.S., 2006)
After serving Mary Esther United Methodist Church in Mary Esther, Florida for more than thirty years, Lisa and I moved to Mountain Park United Methodist Church, Stone Mountain, GA in February 2019, where I serve as the Director of Music Ministry. I had feet on the ground one year before Covid hit. We went online for practically everything, like most everyone. We re-opened our church in a limited way in May 2021, and I still feel like I have only been here one year! Relationships are hard to build when not face-to-face! Now, as we re-group our people, the most noticeable change to my job is learning ProPresenter 7! We didn't learn this at IWS! Peace and grace to our IWS Family!
Rob Stuberg (D.W.S., 2007)
Rob is beginning his fourth year as a Global Mission Associate, teaching at Mwika Lutheran Bible and Theological College on the beautiful lower slopes of Mount Kilimanjaro in Tanzania, East Africa, where he teaches worship and liturgy, guitar, choral conducting, voice, music history, and conducts the music department choir. Rob teaches one semester per year, so he and his wife, Carolee, spend half their time living in Missoula, Montana, and half their time in Tanzania. When residing in Tanzania Rob is also a worship leader for the English service at St. Margaret's Anglican Church. Rob published his first book, written in Swahili with the help of a translator, in February 2021. The title in English is, Lift Up Your Hearts: Thanksgiving, Community, and the Mission of God. His second book will be published in early 2022, also in Swahili, The English title is, An Introduction to Christian Worship: Theology, History, and Calendar.
David Vaughan (D.W.S., 2021)
I continue to serve as the Worship Pastor at Meadow Brook Baptist Church in Birmingham, Alabama. Beginning this fall, I will begin teaching online courses in Worship Leadership and Administration with Samford University's Center for Worship and the Arts.
---
Personal Updates from the Faculty
Jeff Barker
My wife, Karen, and I invited our three kids home to sort out the garage attic. The goal was for each of the children to carry away their childhood memorabilia or throw it away. We ordered WAY too large of a dumpster, laughing at its ridiculous size when it was dropped off. After a week together reveling in the memories and saying "thank you" to each item for the memories, we ended the week with additional gratitude that we had ordered such a large dumpster! This past March I finished publishing my trilogy of biographical stories about the life of missionary nurse Arlene Schuiteman. The final volume is titled "Zambia Home."
Melody Kupal
My husband, Kevin, played a big part in producing my yearly VBS Children's Album, "Mighty Light," making this project my 12th album to date. Now we are excited to celebrate our 26th wedding anniversary, throwing the party we had intended for our 25th last year. Most of the wedding party will be back together to relive old times while making new memories. Kevin and I are also preparing for a new season: empty nesters! Our son, Alex, is preparing for his senior year of college as a computer science and data analyst major while our daughter, Alyssa, heads to Butler University as a psychology and vocal jazz double major.
I am currently working with my first group of doctoral students in our new IWS course WR701, modeled after our master's level course, WR501. I am excited to help our DWS and MWS students develop the research and writing skills necessary to excel at IWS, and my fellow faculty members are excited to enjoy the fruits of that labor.
Jack Van Marion
Retirement may seem a liberating term for many, especially if your employment is burdensome. For me, retirement at the end of 2017 meant a shift in locus and focus. No longer is my calling focused on local church ministry; now the focus of my work is primarily the global church. I thank God for being able to look back with joy and gratitude for 35 years of local church ministry, and I praise God for being able to spend most of my retirement time pursuing IWS's vision of worship renewal. Having worked with our alumni and with present IWS students has given me a clear sense of ministry direction that is energizing, enjoyable, and life-giving. Trust me, there are no boring moments in that journey.
Having taught the Church Year (DWS 703) together with Dan Sharp for 21 years, I can assure you that each session has brought different aspects and challenges to the foreground—challenges that make each session enjoyable and, yes, somewhat unique. Additional opportunities such as thesis supervision and editing have contributed to ongoing learning and sharpening of skills—something that is never-ending. I'm, as they say, a "happy camper" in the Lord's vineyard and grateful to God for this journey with so many of you.
---
Alumni Column: Worship that Forms and Transforms
By Rory Noland (M.W.S., 2018)
I'm appealing to the modern church to return to a biblical vision of gathered worship as a formative spiritual practice.
Scripture emphasizes that spiritual formation is the foundational task of the church. Jesus charged his followers to make disciples, baptize them, and teach them to live in obedience to his commands (Mt 28:19-20). The Great Commission is fundamentally a call to produce disciples—obedient followers—of Jesus Christ who in turn make other disciples. In John 17, on the eve of his crucifixion, Jesus prays what many believe to be the deepest desires of his heart, including an urgent prayer that his followers be sanctified (Jn 17:17).
New Testament church leaders had no confusion about their overarching mission. Paul was adamant that God wants every believer to be sanctified (1 Thess 4:3), so he aspired to bring his people to full maturity in Christ (Col 1:28). His goal was not merely to win a lot of people to Christ but to help them mature spiritually and to equip them for ministry in the community at large (Eph 4:12). Making disciples is not a sidebar activity relegated to a specialized subministry of the church; it is not the pet project of the church's education department or the latest trend the church rallies around for a few months but abandons when the next popular craze comes along. Spiritual formation is not an optional pursuit but the very reason the church exists in the first place. For that reason, church leaders are responsible for providing their flocks with resources and opportunities to help them grow spiritually.
[Click here to keep reading . . . ]
---
Congratulations 2021 Graduates!
A virtual commencement service is planned to honor the 20th graduating class of IWS. The 36 graduates represent 8 nations and 4 continents, and they bring the total degrees conferred by IWS to 693. Thanks be to God for the influence of our alumni who bring worship renewal to churches, colleges, and missions around the globe.
2021 degrees:
The pre-recorded, 30-minute commencement ceremony will premiere on Saturday, September 4, at 10:00 a.m. EDT (GMT -4) on the IWS Facebook page, allowing us to watch together and interact in real-time. A copy of the video will be archived with other IWS media and available from our website following the live event. See the entire commencement service announcement here.
Congratulations to the class of 2021–the 20th graduating class of IWS!
---
Videos from Spring 2021 Worship Webinars
Since the pandemic sidelined our normal planning of worship seminars on campus, four interactive webinars were scheduled earlier this year to provide ongoing education, worship resources, and inspiration for worship planners and leaders. Each session included a presentation by the author of a recently published book followed by a discussion based on questions asked by the attendees. Each webinar was a delightful success, with from 17 to 56 people in live attendance online.
Rory Noland on The Heart of the Artist, 2nd ed.

Glenn Packiam on Blessed Broken Given

Jeff Barker and Thomas Boogaart on Performing the Plays of the Bible

Constance Cherry on Worship Like Jesus
---
Click here to access the Spring 2021 IWS Webinars webpage.
---
Publications by IWS Authors
Larry Ellis (M.W.S., 2005) has a vision for cataloging the books that have been published by members of the IWS community. He has started the project and offers the first listing of publications on his website: Adoration Publishing LLC: Resources for Christian Worship and Formation. More will be added.
Larry writes, "Any books published on any topic by IWS faculty, alumni, and students are eligible for listing, not just those on worship-related topics." If you are a part of the IWS community and would like to have your books listed here, send an email to Larry Ellis.
---
Thank you, Steve Huntley!
Dr. Steve Huntley, Director of Institutional Effectiveness and Planning, is retiring after more than ten years of service to IWS, and over 20 years of involvement as a volunteer, host family, and consultant. Steve has made tremendous contributions, leading IWS through reaffirmation of accreditation with the Association for Biblical Higher Education, and initial accreditation with the Association of Theological Schools. Additionally, he has developed processes for leading and evaluating IWS' strategic plan, directing the annual institution-wide spring survey and keeping the public informed of our student achievements and institutional effectiveness, as required by our accreditors and the federal government.
Dr. Huntley's broad experience in higher education has been invaluable to the success of IWS, and we deeply appreciate his many years of service among us.
Thank you, Steve, for your long commitment to IWS, your effective work as a member of the staff, and your contribution to the significant work of IWS for the sake of God's kingdom around the world. You will be missed!
---
Sign up to receive the Webber Quote of the Week by email.